​
​
U2-KULLEN/LITTER
Inavelskofficient/COI 0,8 % 5 generations
Det är en rent irländsk kombination/It is a pure Irish combination.
Båda föräldrarna är mycket trevliga hundar med utmärkt temperament.
Both parets are very nice dogs with excellet temperament
födda/dob 18 December 2007
7 hanar/males - 2 tikar/females
---
​
.

Jakthunden Villa Rosas Uisge Potheen "Faxe"

Villa Rosas Uisge Dew "Dagge"

​
​
18 December 2009
Grattis till alla på 2-årsdagen i Uisge-kullen.
Congrats to all in the Uisge litter at the 2 years birthday.
Många undrar ur man uttalar Uisge? Precis som det stavas på svenska faktiskt. Smaka på det några gånger så får du snart en aha upplevelse. Ja just det, wiskey. Det är den irlänska (gaeliska) stavningen och det betyder livets vatten. Kommer det månne från vikingarna??
Many have asked me how to pronaunce Uisge and those of you who are not familiar with Wiskey doesn't perhaps know it, but it is actually how it is pronaunsed and it's Gaelic.
Faxe got a birtday pancake ;)
---
Greetings from Murphy in Kaliningrad, Russia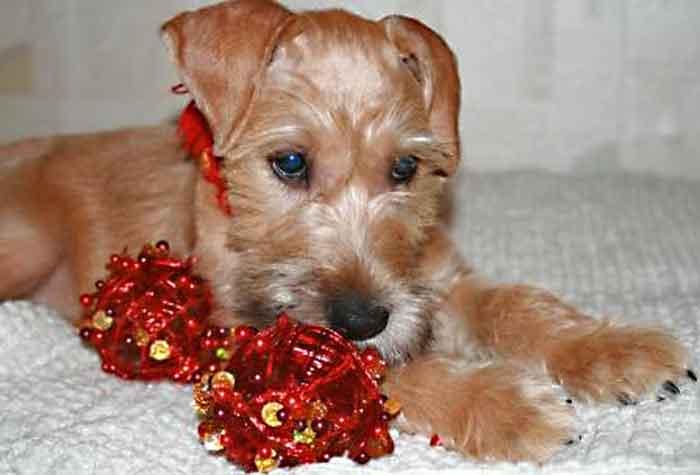 Villa Rosas Uisge Murphy, 3 months
---
13 February
valparna är nu 8 veckor och den första är hämtad och på väg till ditt nya hem i Norge.
The pups are now 8 weeks and the first has left for her new home in Norway.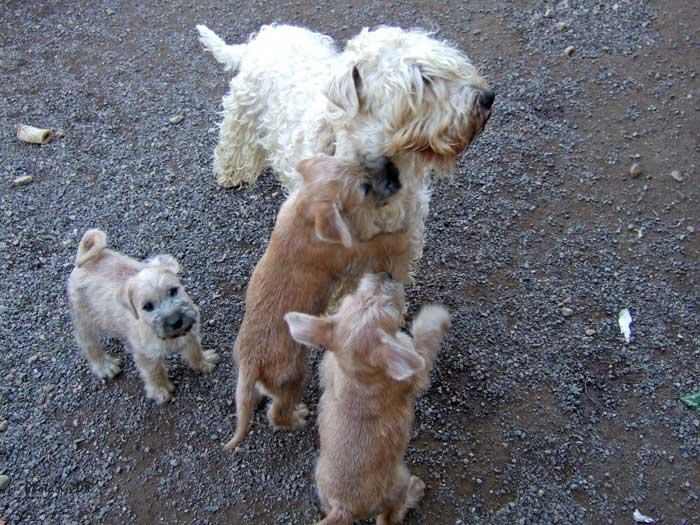 Pappa Snorre Coleraine Tyrconnel Dew
Snorre - Dew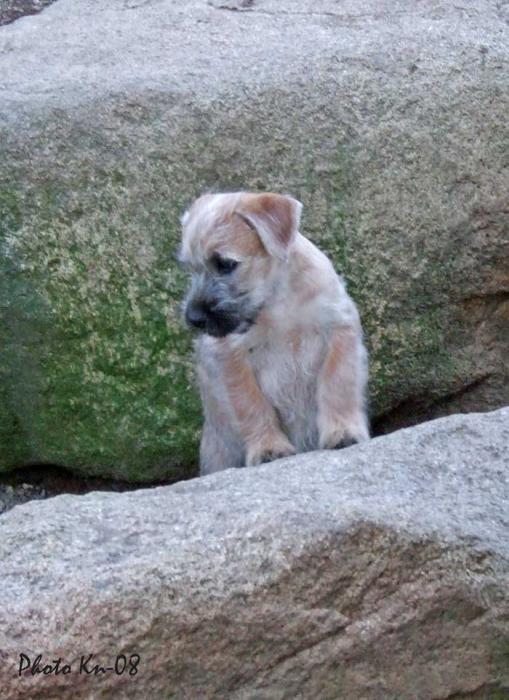 Potheen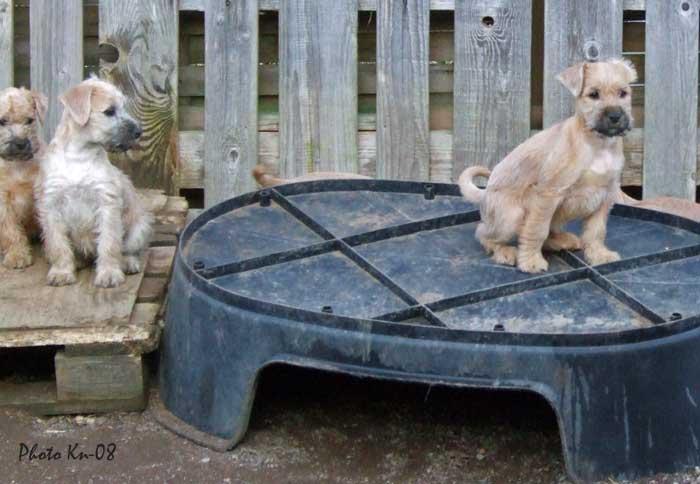 Tyrconnel-Inishowen-Locke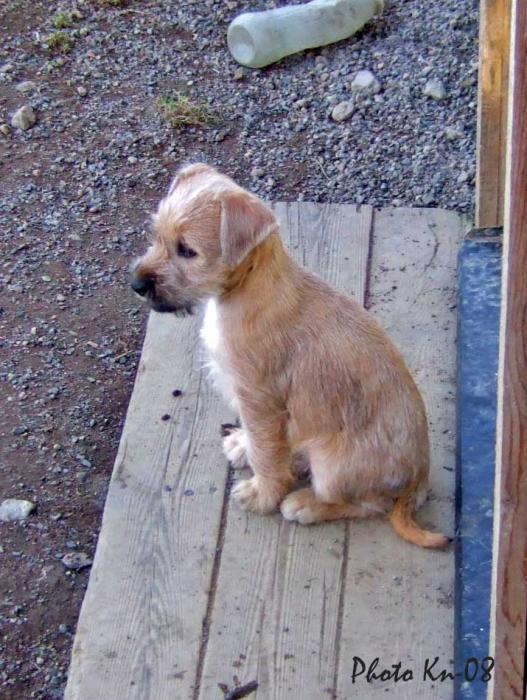 Murphy
Coleraine - Tyrconnel
---
11 February
Idag var veterinären här och besiktigade alla valparna och dom fick också sin DHPPi vaccination. De valpar som skall exporteras utanför Skandinavien fick också sina EU pass. Alla valpar var friska och veterinären skrev att det var en fin kull.
Today the vet was here and went through all the puppies, gave them the DHPPi shot and made EU pet passports to the pups going outside Scandinavia. They were all sound and healthy.
---
7 february
Dom är nu 7 veckor och idag skall dom bli microchippade. När det är gjort får dom också sina registrade namn.
Dessa kommer att läggas upp under bilderna från den 1 februari.
They are now 7 weeks and will be micro chipped today.
They will also get their registred pedigree names and I will put them up under the pictures from 1 february.
Kilbeggan 7 weeks
"The wild ones"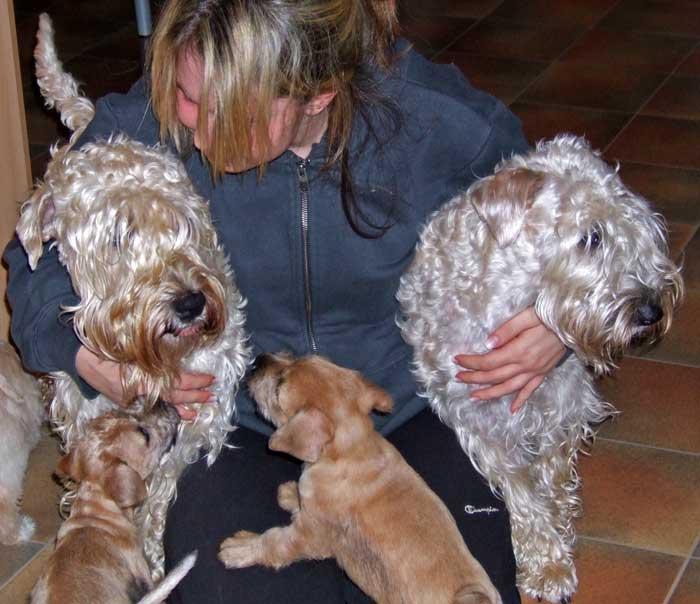 Pappa Snorre och mamma Cara har hjälp av Matilda med valpfostran.
Dad Snorre and mom cara get some help from Matilda to race the pups.
---
1 February
Nu har vi tagit bilder på dom en och en. Dom ville ju inte riktigt ställa upp sig framför kameran,
så det är en o annan sned fot och krökt rygg ;-)
Now we have taken photos of them one by one. They were not soofond of being stacked in front of the camera,
so there are one leg here and one back there not looking perfect ;-)
MALE NR 1
Villa Rosas Uisge Potheen
päls röd sträv/coat red harch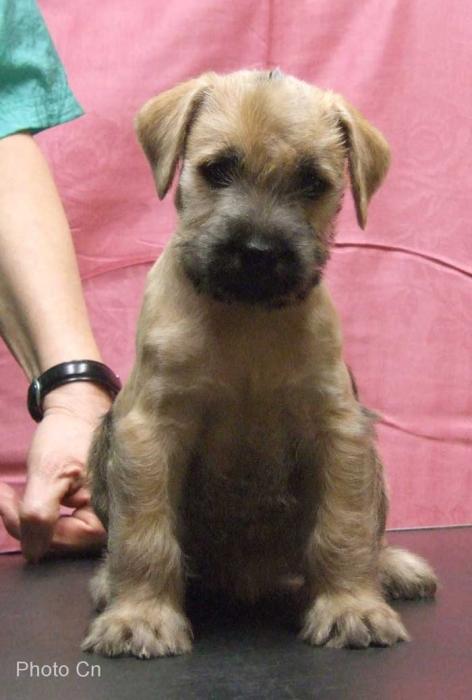 MALE NR 1 "Faxe"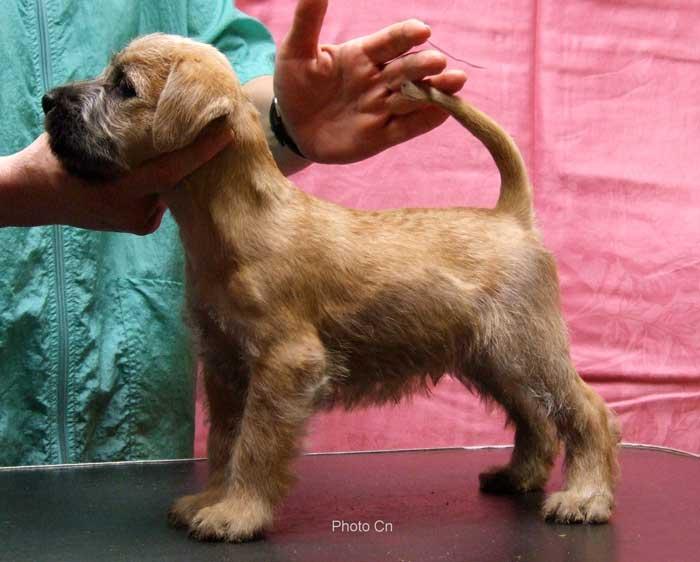 Male Nr 2
Villa Rosas Uisge Tyrconnel
päls röd sträv/coat red harch
Male Nr 2 "Ture"
Male 3
Villa Rosas Uisge Locke
päls mjuk typ chinchilla vetefärgad/coat soft chinchilla wheatencoloured
Male 3
Male 4
Villa Rosas Uisge Kilbeggan
päls mjuk typ chinchilla mörkt vetefärgad/coat soft chinchilla dark wheatencolour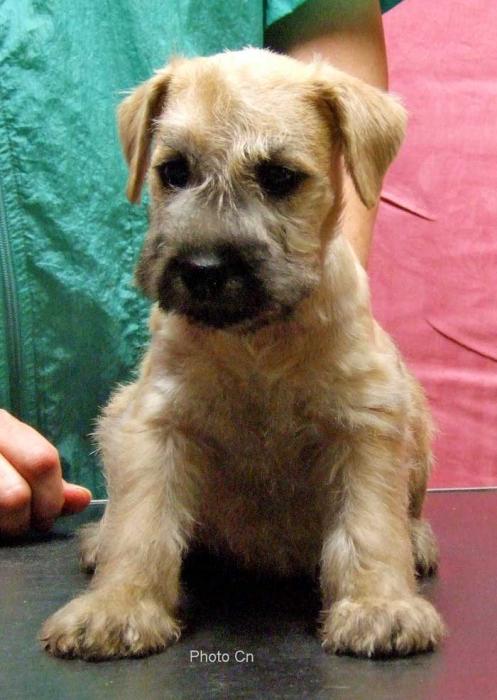 Male 4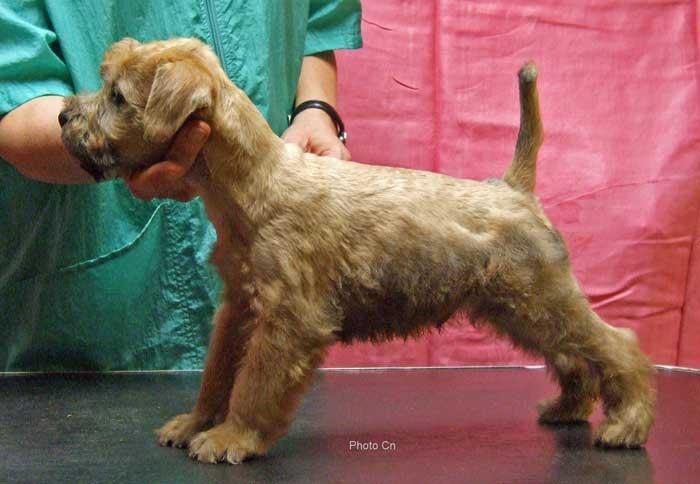 Male Nr 5
Villa Rosas Uisge Inishowen
päls mjuk typ chinchilla röd/ coat soft chinchilla red
Male Nr5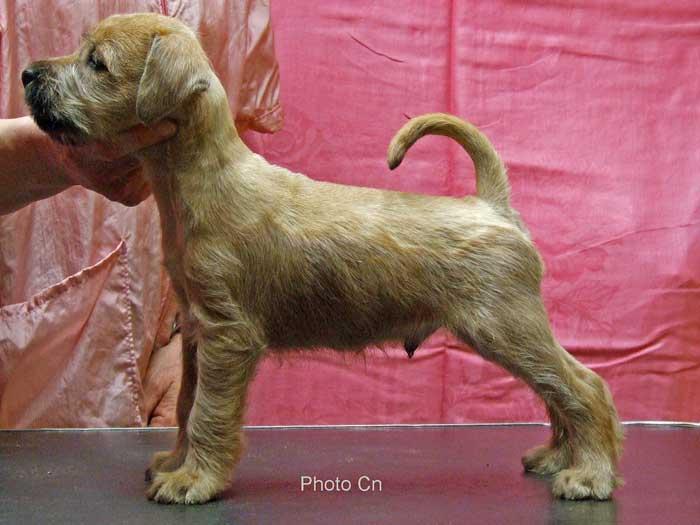 Male 7
Villa Rosas Uisge Murphy
päls röd sträv/ coat red harch
Male 7
Male 8
Villa rosas Uisge Dew
päls mjuk röd/ coat soft red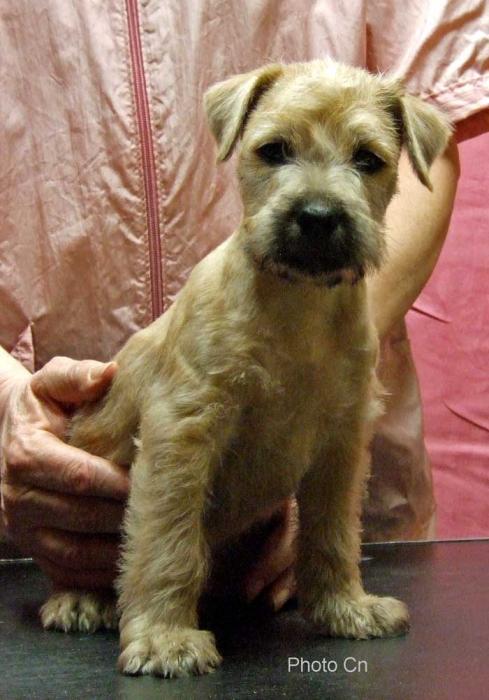 Male 8 "Dagge"
Detta var alla hanarna - This was all males
Female Nr 6
Villa Rosas Uisge Coleraine
päls röd sträv/coat red harch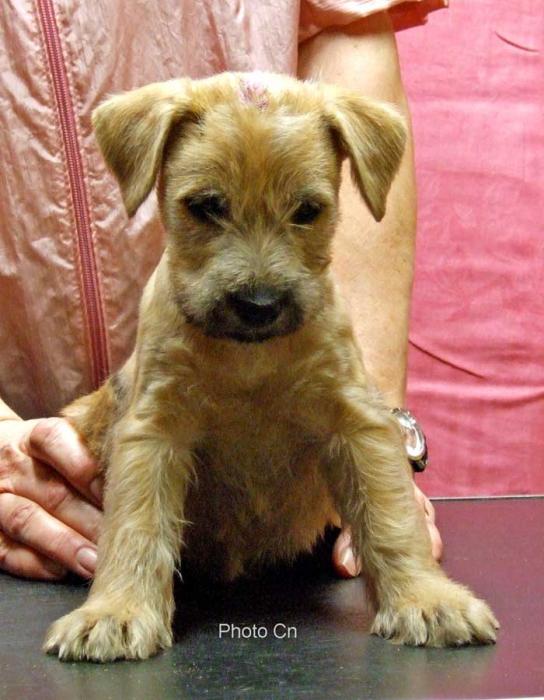 Female Nr 6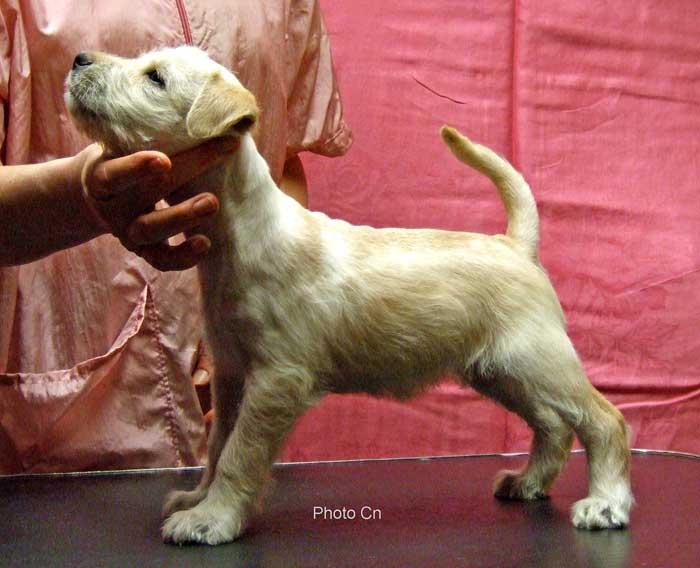 Female Nr 9
Villa Rosas Uisge Beatha
päls vetefärgad sträv/coat wheatencoloured harch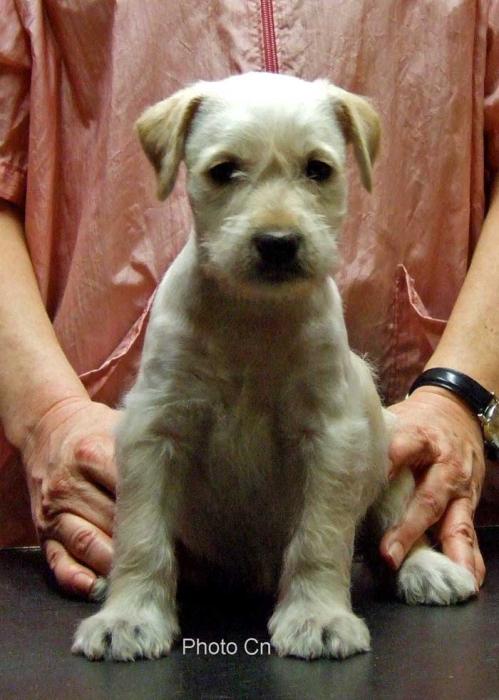 Female Nr 9
---
29 January
Idag är dom 6 veckor. har tagit några bilder på dom nu ikväll. Till helgen räknar jag med att ta bilder på dom en och en uppställda. Dom är också registrerade i SKK och när dom kommer upp en och en kommer jag att lägga ut ders namn under bilderna.
Today they are 6 weeks. I have taken some pictures of them tonight. Nest week-en We will take photos of them one by one stacked and I will also put their registered names under each photo.
Female with pink on the head, the rest of them are males.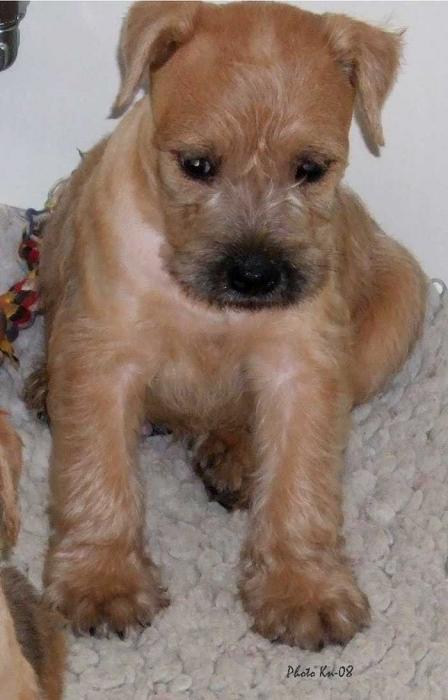 Male marked on the right backleg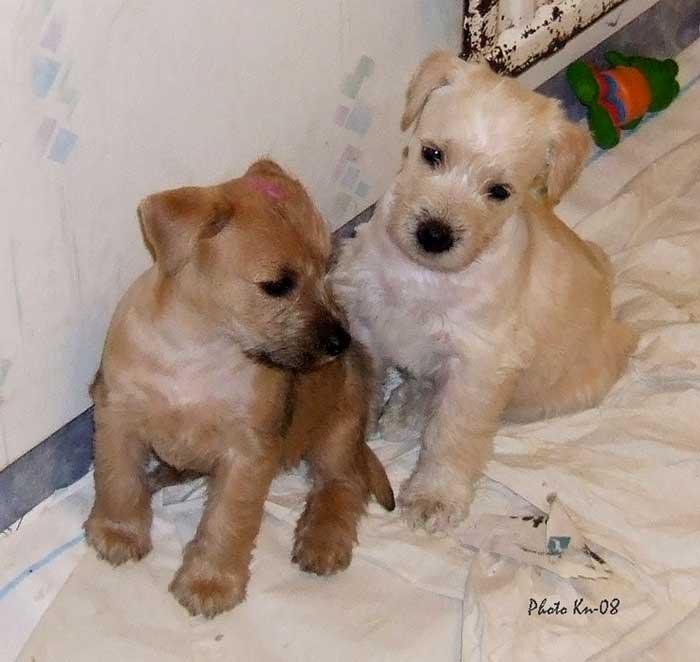 Female to the left and the wheaten coloured male. Look at his black nose, black eyeliner and dark eyes.
All the litter have very dark eyes.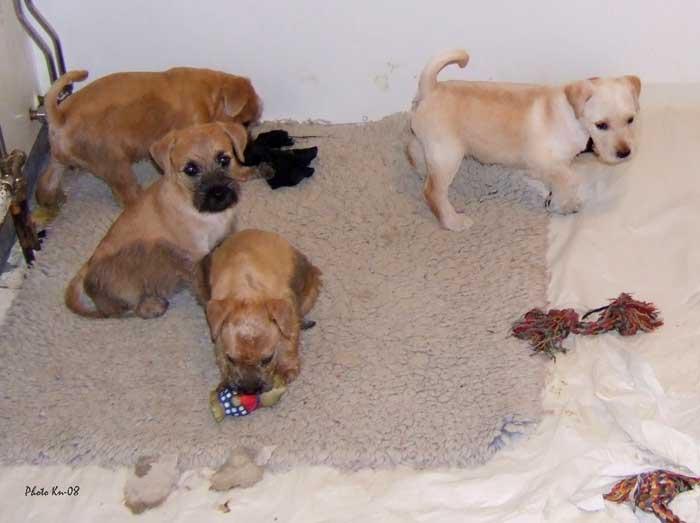 Three males and the wheaten coloured female
25 January 5 veckor - 5 weeks
Nu rusar tiden iväg och det är full fart. Dom är ute och leker när vädret tillåter och dom har fått sin första klippning.
Först kommer ett par bilder tagna i söndags av Sirkku Sarenbo. Därefter kommer bilder som jag tagit.
Time is rushing and now it's full speed in the puppy room. they are also outside when the weather admits and they are trimmed for the first time. First some a couple of pictures taken by Sirkku sarenbo last Sunday and after some taken by me.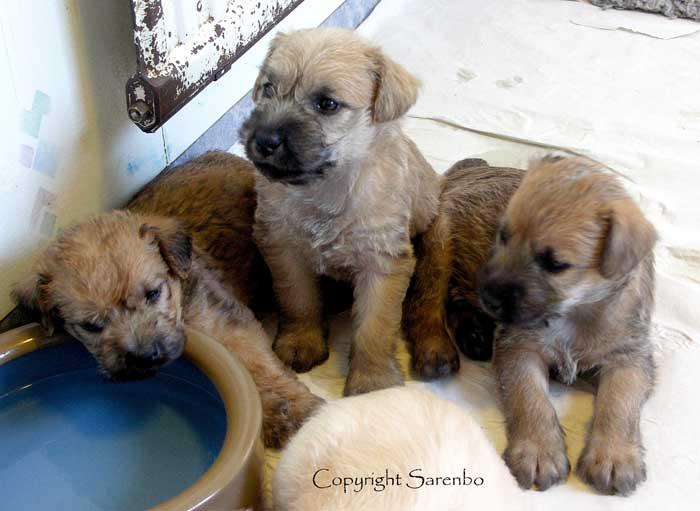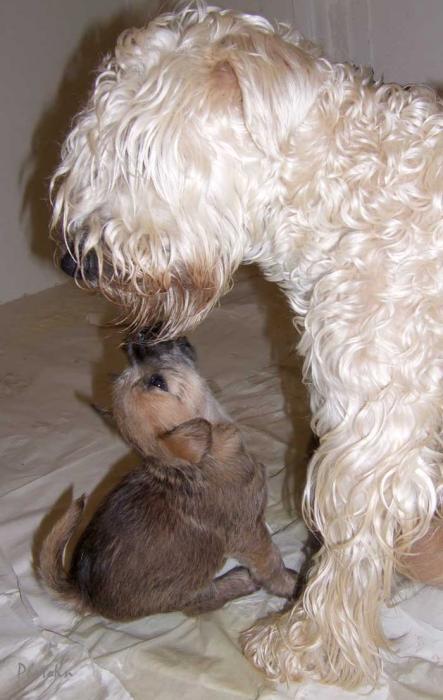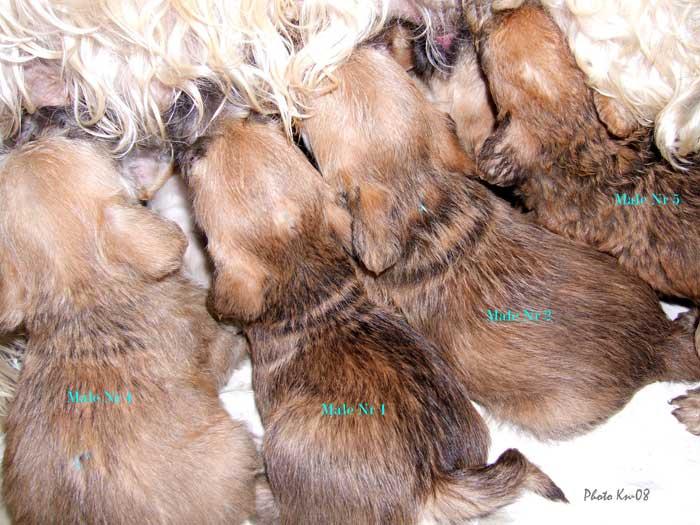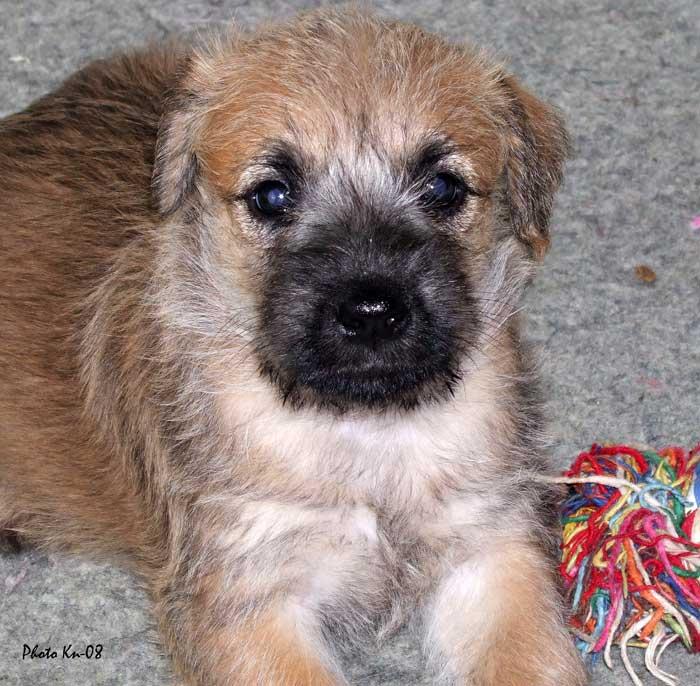 16 january
Igår blev valparna 4 veckor och börjar nu busa runt med varannn, "morra" och "skälla" lite..
Yestersday they were 4 weeks. They are now playing with each other and have start "growling" and "barking" a little.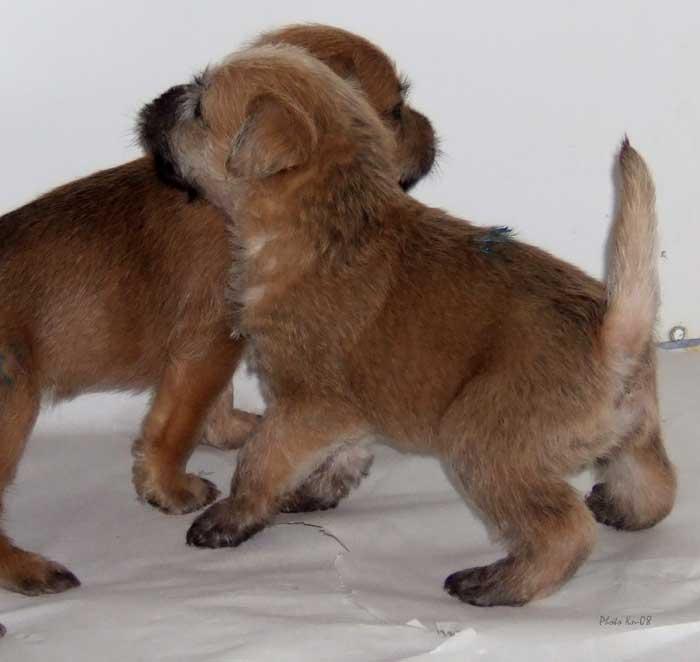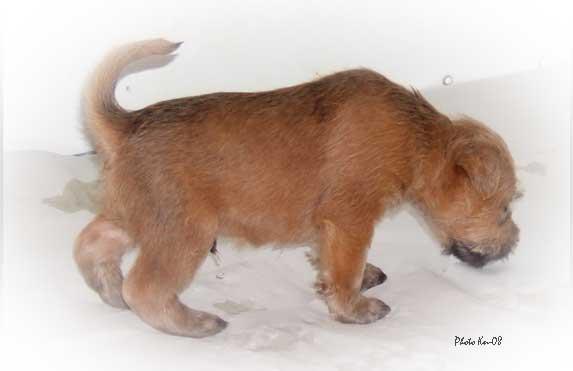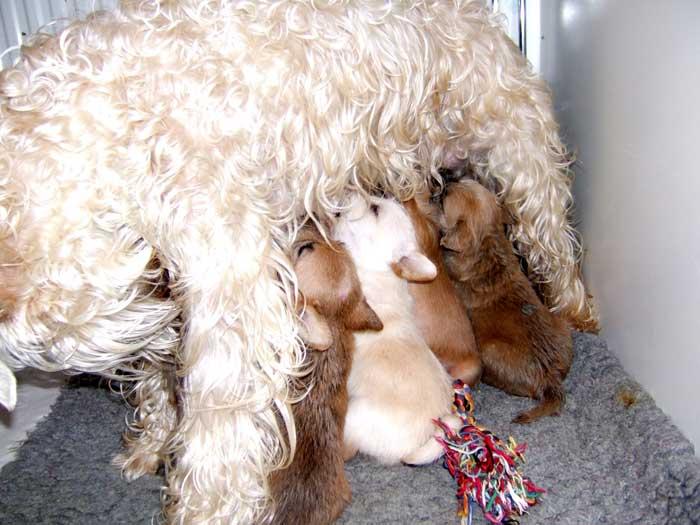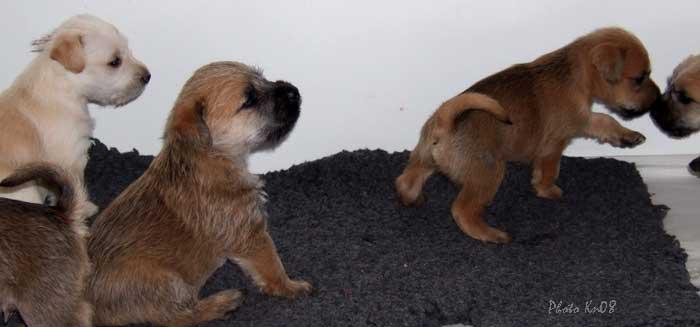 ---
12 January
Några nytagna bilder
Some new taken photos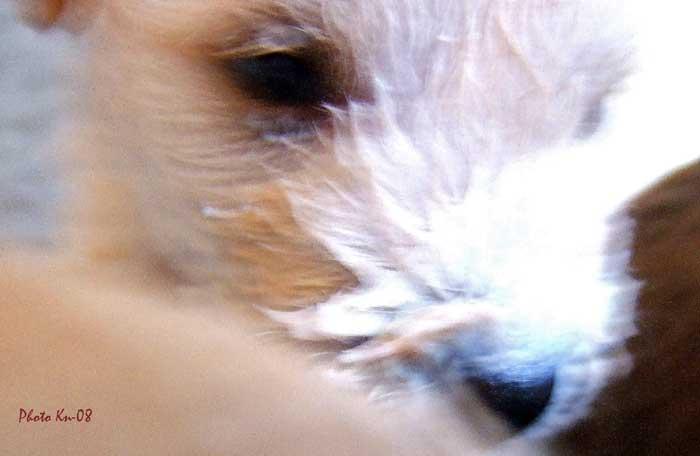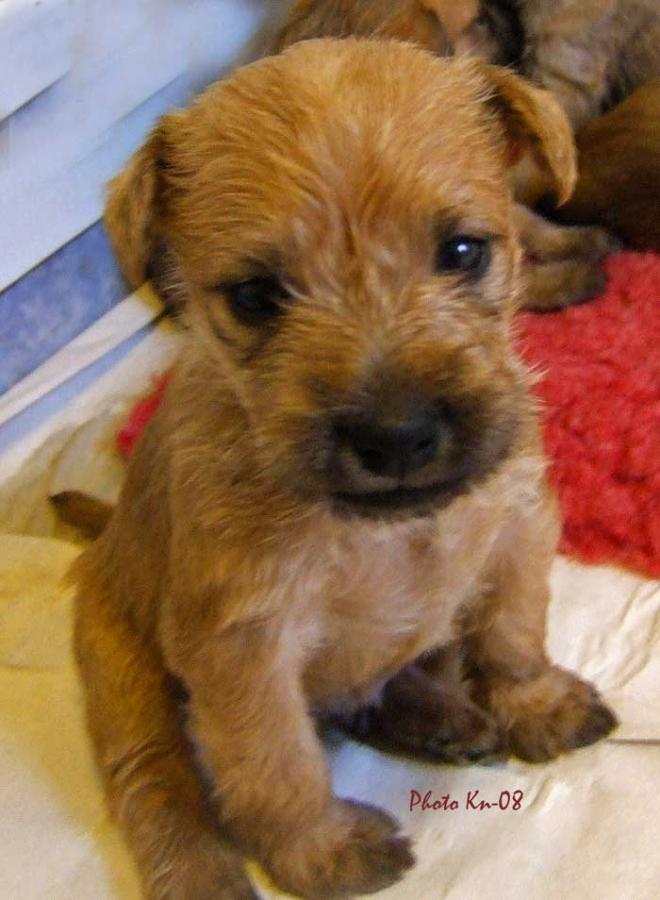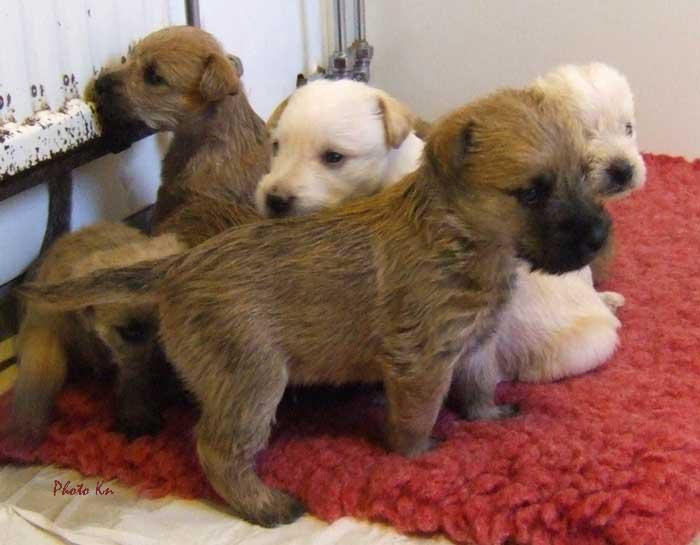 ---
9 Januray 2008
Igår fyllde valparna 3 veckor. De har vuxit jätte-mycket och 3 av dom väger över nu 1 kilo.
Resten väger från 800 gram och uppåt.
De har även flyttat ut ur valplådan och blir mer och mer rörliga.
Igår fick dom även sin första kloklippning och fick smaka på majzena vällingen som dom bara älskade.
Nu går det fort och det händer nya saker varje dag.
Vi har 1 hanvalp kvar som inte är tingad på grund av återbud.
Yesterday the pups were 3 weeks. they have grown a lot and 3 of them weight more than 1000 grams.
The rest of them are from 800gram.
They have also moved out from the whelping box and are running around more and more every day.
Yesterday they got their nails cut for the first time and was given the corn gruel for the first time as well.
And they just loved it.
Because of cancellation there are 1 male pup available.
First nailcut
---
7 Janury
Några bilder som jag tog igår
Some pictures I took yesterday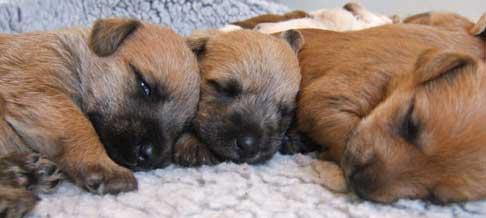 ---
3 Jan-2008
2 veckor - 2 weeks
På grund av återbud från uppfödare i Finland och Norge finns 2 otingade hanvalpar!!!
Valparna är drygt 2 veckor, har öppnat ögonen, börjat höra och har även börjat resa sig på benen och försöka gå de första stapplande stegen. Nu händer det saker hela tiden och dom är bedårande.
The pups are over 2 weeks, have opened their eyes, started to hear and even started to try to walk. they are at the moment breath taking.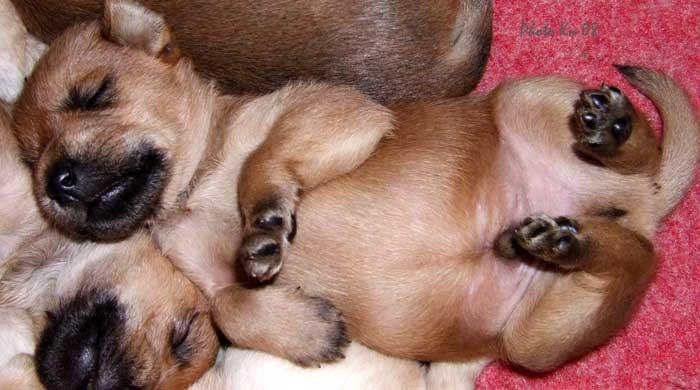 ---
Bilder tagna nyårsafton. valparna är 13 dagar.
Pictures staken New Years Eve, 13 days old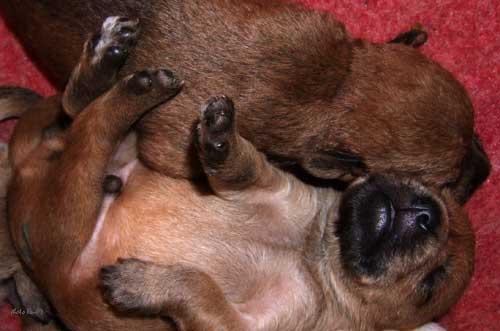 ---
Här kommer lite bilder på när dom är 10 dagar
Here are some pictures when they are 10 days
---
25/12-07
Idag är dom 1 vecka. Tänk vad tiden ändå går fort.
Vi har en tik och en hane som inte är tingade.
Today they are 1 week. Can't belive how fast times goes by.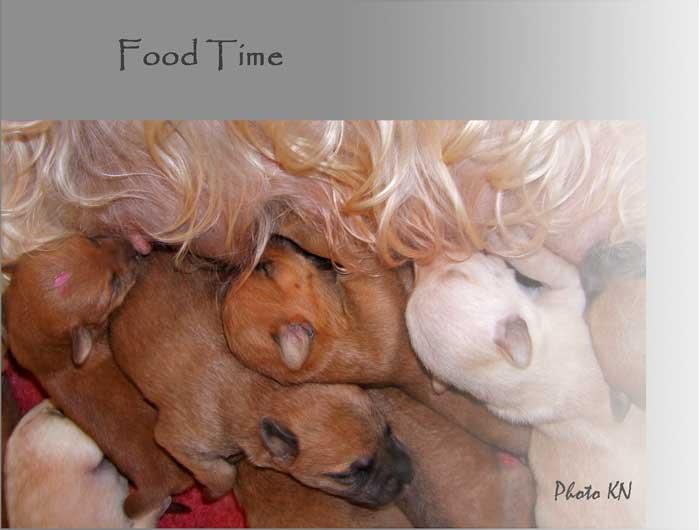 ---
24/12-07
6 dygn - 6 days
Ett par bilder på dem när det är julafton och de är 6 dygn.
A couple of pictures of them on Christmas Eve and they are 6 days.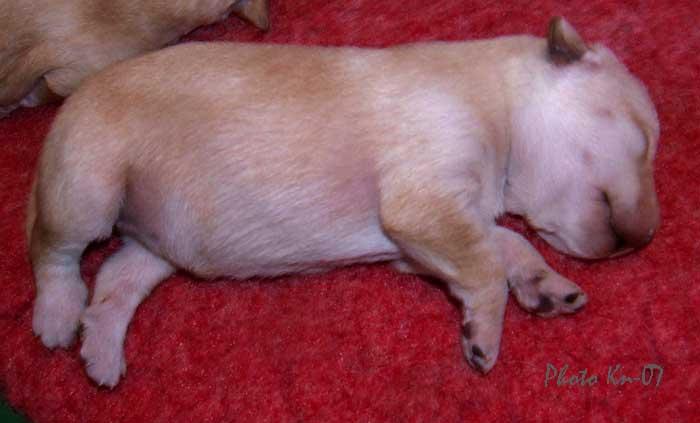 De vetefärgade har nu svärtat i både nosar, läppar och trampdynor.
The wheaten coloured pups have already black noses, lips and pads.
---
21/12
3 dygn - 3 days
Valparna växer snabbt och är som små fetknoppar ;-)
The pups are growing fast and are small faties ;-)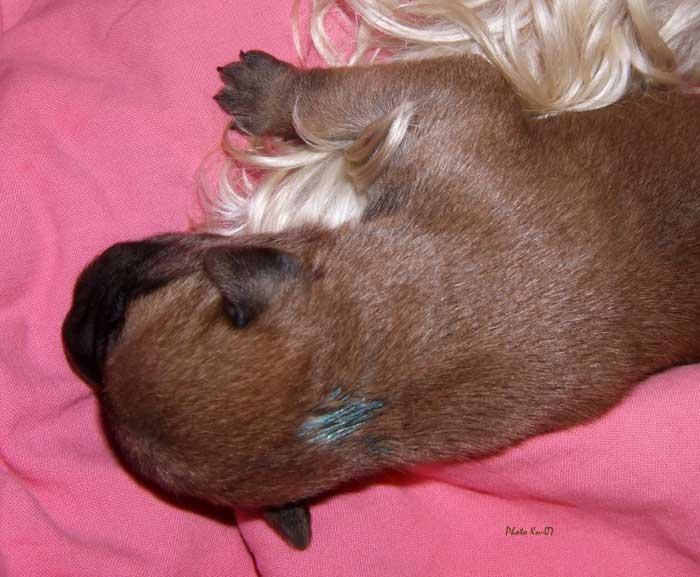 ---
20/12
2 dygn - 2 days
Dom äter, sover och växer och har redan ökat mycket i vikt.
They are eating, sleeping and growing and their weight have already increased a lot.
---
19/12
1 dygn - 1 day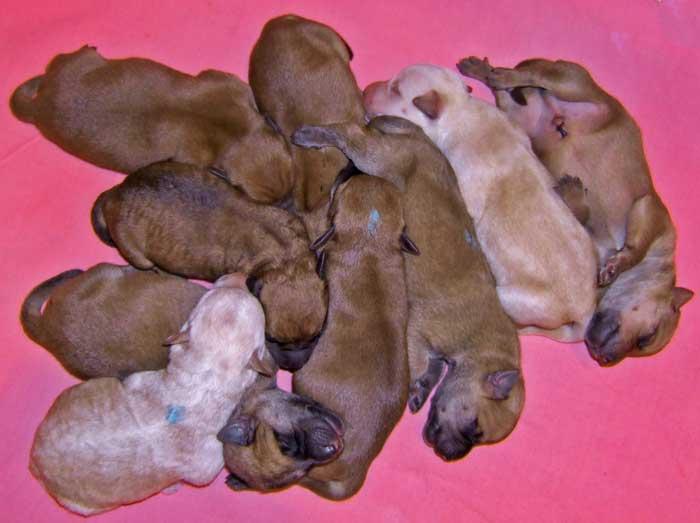 ---
18/12
Idag fick Cara 9 valpar, det blev 7 Hanar och 2 tikar. Mamma och valpar mår bara bra. Två var vetefärgade vid födseln.
Today Cara got 9 puppies. There are 7 males and 2 females. Mother and pups are very well.2 were Wheaten coloured at birth.
Newborn
Newborn
Cara tar sig en välbehövlig tupplur efter valpningen - Cara is sleeping after the welping is finished.
---
Den 7/12-2007
Cara växer nu så det syns och idag är det två veckor kvar till valpningen.
Cara is now growing visible and it's only two weeks left to the whelping.
---
Cara är parad med Snorre, se nedan, och konstaterat dräktig.
Valpningen väntas äga rum runt den 21 December. Valparna blir leveransklara runt den 18-20 februari 2008.
Valpar kan nu tingas. Detta är en rent Irländsk kombination.
Cara och Snorre är i stort sett obesläktade så inavelsgraden COI är 0,8%
Cara is bred to Snorre and is pregnant.
The welping is planned to take place around the 21st December and the pups will be ready for their new homes in the end of February 2008.
This is a pure Irish combination.
Click on their names for more informations.
Sire/pappa:
Dam/mamma:
Kung Snorre, King Snorre
Snorre är en mycket stilig och trevlig hane. Han har en underbar mentalitet som han har nedärvt till sin avkomma. Han älskar alla, har stor leklust och tycker att livet är jätte-kul.
Han har så här långt två Champion avkommor.
Snorre is a very handsome and nice dog. He has a wonderful temperament that he also has given to his off-spring. He loves everyone, is very playful and loves to live.
He has so far two Champion off-spring.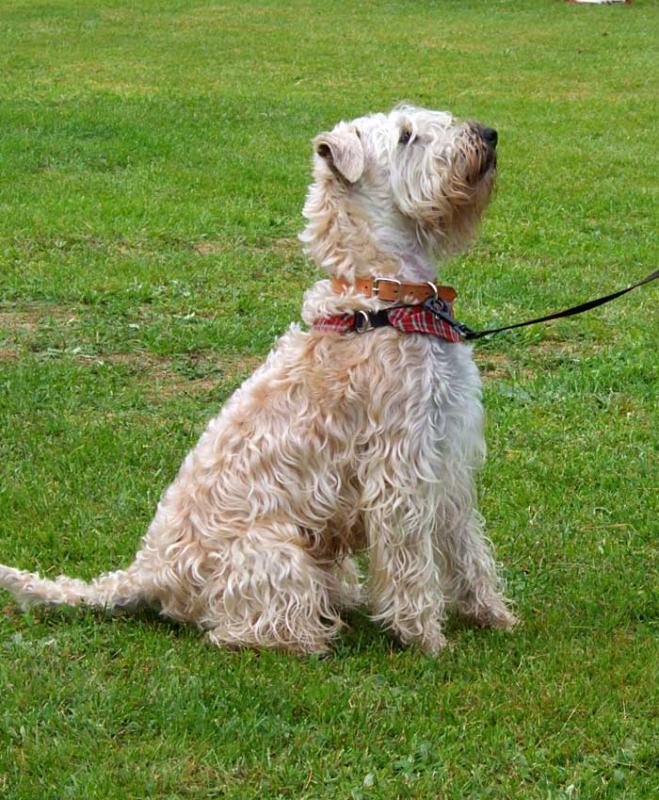 Cara sitter fint
Cara är en mycket söt och femininn tik av mycket bra storlek. Kort och kompakt. Hon har ett ganska mjukt sätt och älskar att sitta i knät och pussas. Detta är hennes första kull och hon var mycket lättparad.
Cara is a very feminine and good looking bitch of very good size. She has a quite soft temperament and loves to sit in the lap. This will be her first litter and she was very easy bred. Didn't need any help or support.