---
2010 Års tema blev regn!
Det blev den regnigaste träffen någonsin. Det ösregnade i 18 timmar i sträck och emellanåt kom en störtskur. Vi fick 112 mm!! Det var omöjligt att vistas utomhus.
På fredagen fick vi ställa in golfen på grund av ösregn vid golfbanan i Bergkvara.
På lördagsförmidagen småregnade det lite så vi började med rally-lydnaden och höll på fram till lunch. Medan vi åt lunchen kom den första störtskuren för att sedan minska ner till att ösregna;-) Det regnade och regnade och så kom det en störtskur. Allt blev dyngsurt!! Så fortsatte dagen och kvällen. Vi klädde in terassen med presenningar och satte på infravärmen. Köksgolvet fick bli dansgolv, sedan satte festen igång!
Innan grillfesten hade vi haft en tipspromenad, innomhus!! Poollekar behövdes inte, man blev dyngsur bara genom att titta ut;-)
Över grillen satte vi ett tält, som senare på kvällen blåste bort!!! Jaa, villket väder det var.......
Festen blev den roligaste någonsin. Skrattmusklerna värker ännu efter alla tokigheter som hittades på och som på beställning blev det uppehåll vid 23-tiden och alla hoppade i poolen och blötte ner sig lite till.
På söndagen hade vi tävling i i rally-lydnad!
Fredag/Friday
​
Lördag morgon/Saturday Morning
​
Eftermiddagsfika/Afternoon tea
​
​
SATURDAY NIGHT
​
Chris and Daniel Sunday
​
​
​
​
​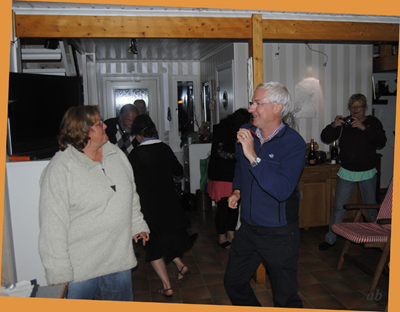 Det blev en blöt men mycket trevlig kväll/ It was a wet but very nice evening.

​

​

​
Söndagens tävling/Sunday competition
Det blev två vinnare med full pott 100poäng av 100 möjliga!
There were 2 winners with the highest points 100!!
​
​
​
​
Vi fick tyvärr inte med alla tävlande på bild - Sorringly enough we didn't get photo of all competitors.
​
Detta var alla bilderna.
Vi vill härmed tacka alla för många roliga år och träffar!
This was all photos.
We will thank all for some lovely years and Villa Rosa Days!
Kickie & Chris
---
Theme of the year 2010 became rain!
It was the rainiest days ever. It rained hard for 18 hours and during this hard rain there came showers of even harder and heavier rain. We had 112 mm!! It was impossible to be outside!
The golf was cancelled because of heavy rain at the golf course.
Saturday morning it was raining just a little so we started the rally-obedince and went on up to lunch. During the lunch it started to rain heavily and after a swhile it went down to even heavier rain;-) It was raining, and raining and raining and so there was a real heavy shower. Everything was soaked wet!! It went on like this for the rest of the day and the evening as well. We covered the terasse the best we could and put the infra heating on. The kitchen became dancing floor and so the party could be started!
Before the party we had a Quiz-walk..indoors.... Pool games wasn't needed, we were already wet enough;-)
We covered the grill with a tent, that dissapeared in the rainstorm later....Oh my, what a wheather it was....
The party was the best ever!! My muscles are still aching after all laughter...
Suddenly it stopped raining for a while and all went for a swim in the pool!!!
On Sunday we had a rally-obedience competition!
​
Rally-Lydnad träning lördag förmiddag/saturday morning
​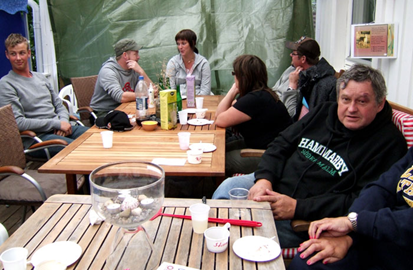 ​
​
​
Jocke o Daniel underhöll oss hela kvällen/
Jocke and Daniel entertained us all the night
​
​
​
​
​
​
​
​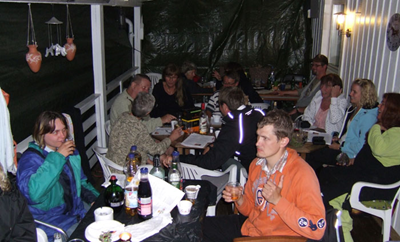 ​
​
​
​