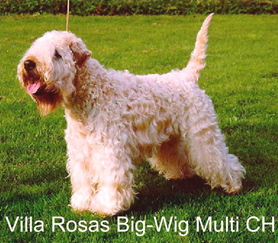 Mister blev vår första egenuppfödda Wheaten att bli Champion, men det dröjde till han var 3 år innan han fick sista certet. Han var också vår första Wheaten med röd/sträv päls som valp och vi behöll honom för att han såg så annorlunda ut. Som 8 månaders valp vann han sin första utställning, rasspecialen i Stockholm med Anthony, Killykeen, Doyle som domare. Där blev han BIS valp!
Silkig sk. Irländsk päls var inte inne då, så släta 1or och en o annan 2a var resultaten på de flesta utställningarna. Under Michael Kirby fick han dock ett cert och CACIB som unghund. När han som vuxen blev fullpälsad kom också vinsterna. Han blev med sina 10 nationella och internationella titlar en av världens högst Championbetitlade Wheaten någonsin.
Utöver detta hade han en underbar mentalitet och fostrade och präglade många valpar. Det var också på grund av sitt trevliga temperament som han fick många fler parningar än det var tänkt. När vresiga tikar som inte ville med den tilltänkta hanen blev presenterade för Mister för att kolla om dom var i höglöp blev som förbytta och bjöd ut sig så ägarna skämdes;-)
Det finns många välkända barn, barnbarn och barnbarnsbarn som tex föjande 4 hundar i rakt nedstigande led. MULTICH Villa Rosas Key-Way, MULTICH Villa Rosas Paddy, CH Kaler Toy-Boy of Villa Rosa, MultiCHCH Villa Rosas Lochlainn.
Mister was our first ownbred Wheaten to become Champion, but it lasted until he was 3 years until he got the last cert (CAC) He was also our first Wheaten with red/harsh coat as a pup and we kept him since he looked so different. When he was and 8 months old pup he won his first show, the breed specialty in Stockholm under Anthony, Killykeen, Doyle as judge. He ended up as BIS puppy!
Silky so called Irish coat was not popular so it was a very hard time to show him. As intermediate he won one cert (CAC) and CACIB under Michael Kirby. As adult, when the coat had grown out the wins started and he ended up with his 10 national and international titles as one of the highest Champion titled dogs in the world ever.
He also had a wonderful mentality and raised a lot of puppies. It was also because of his lovely temperament he was used at stud many more times than planned. When those unwilling bitches that didn't want to breed the planned male came and were introdused to Mister to check if they were in heat they totally changed and offered themselves so their owner was ashamed ;-)
There are many wellknown children, grand- greatgrand etc. by him. For example the following 4 generations MULTICH Villa Rosas Key-Way, MULTICH Villa Rosas Paddy, CH Kaler Toy-Boy of Villa Rosa, MULTICH Villa Rosas Lochlainn.