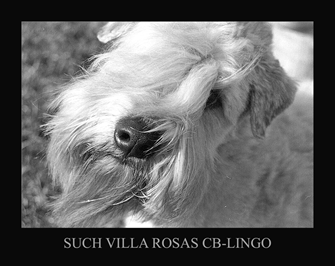 ​
Villa Rosas CB-Lingo eller "Gorby" som han kallades är kommen ur vår tredje wheatenkull. Han var en hane av bra storlek med ett härligt temperament.
Tommy o Marianne på kennel Pipedreams tog över honom som vuxen.
Han har två kullar efter sig.
Nedan är några bilder tagna 1992
Villa Rosas CB-Lingo or "Gorby" as he was called, came out of our third Wheaten litter. He was a male of good size with a lovely temperament
Tommy and Marianne at Kennel Pipedreams got him as adult from us.
He had two litters.
Down are some pictures taken 1992