​
X2-KULLEN/LITTER
födda/dob 12 December 2009
1hane/male - 3 tikar/females
Inavelskofficient/COI 2,6 % 5 generations
Det är en rent irländsk kombination/It is a pure Irish combination.
Det är en rent irländsk kombination/It is a pure Irish combination.
Båda föräldrarna är mycket trevliga hundar med utmärkt temperament.
Both parets are very nice dogs with excellet temperament
​
Pedigree
Kaler Gigolo Of Villa Rosa
USCH Villa Rosas Felyan
Maroc Na Sionna
Villa Rosas Zowie-Zandie
USCH Feanaro Kaler Banya
Fëanáro Eireann Kilmurvey
Fëanáro Geall Madra Maureen
Cara For Villa Rosa Of Queen Stars
MULTICH Illustre Illann v D Keienhorst
CH Uactaran Upon Knockmeal Down
CH Greannmar Grainne
CH Strongbows Corocca Kila
CH Fenian Oconnor
CH Yesterdays Hero Cherley Sheleen
| | | | | |
| --- | --- | --- | --- | --- |
| | Nr1 Fem | Nr2 Fem | Nr 3 Fem | Nr 4 Male |
| birth weight | 245 grams | 260 grams | 290 grams | 295 grams |
| 2 days | 280 | 305 | 340 | 355 |
| 3 days | 335 | 350 | 390 | 415 |
| 4 days | 375 | 410 | 450 | 475 |
---
BRYN Villa Rosas Xibryn
3 månader o nyklippt/3 months and new trimmed

​

Innan klippningen/before the trimming
​
---
28/1-2010
6,5 veckor
Igår fick vi en himla massa snö så nu har vi nog närmare 40 cm snötäcke.
Därför fick valparna leka på altanden idag tills snön sjunkit ihop lite grann.
Snorre har lärt Razzel ur man leker med valpar, så han är en bra kompis att busa runt med nu.
bilderna nedan talar för sig själva
​
6,5 weeks old
Yesterday we got a lot of snow and I think we have about 40 cm snow now.
Today the pups had to play on the roofed deck until the snow has gone together a bit.
Snorre has taught Razzle how to play careful with the pups so he is a good playmate now.
The photos will talk for themselves, I think.
​
---
25 January
Dom är nu över 6 veckor och det är full fart.
Snö och kyla bekommer dom inte mycket heller och Snorre är valppappa som vanligt;-)
They are now over 6 weeks and are running around playing.
Snow and frost doesn't matter and Snorre is daddying the pups as usual ;-)
Från vänster, tik nr 2, tik nr 3 samt hanen och Snorre.
From left, female Nr 2, female Nr3, the male and Snorre.
​
Närmast hanen i bakgrunden tik nr 2/Closest the male, behind female Nr 2

Tik nr3, female Nr 3

Tik nr 1/female Nr1

​

​

From left, female nr 3 and the male / Från vänster, Tik nr 3 och hanen
---
20 January
Nu är dom nyklippta Och då kan man se detaljer lite mer eftersom dom inte döljs av päls.
Now they are trimmed and you can se details more clearly since they are not hidden beyont coat.
Tik/Female Nr 1 KLIPPT7TRIMMED "chinchilla"

Tik/Female Nr 2

KLIPPT/TRIMMED "red&harch" irish terrier type

Tik/ Female Nr 3 KLIPPT/TRIMMED "red&harch" border terrier type

Hane/Male Nr 4 KLIPPT7TRIMMED "chinchilla"

​

​

OKLIPPT/UNTRIMMED

OKLIPPT/UN TRIMMED

OKLIPPT/UN TRIMMED

OKLIPPT/UN TRIMMED
And so a cute photo of the male
---
19 January
5 veckor/weeks
Nu händer det mycket. Dom växer så det knakar och det är full rulle. Trots att dom bara är fyra är dom duktiga på att busa och röra till det i sitt rum;-) Det är också dags för första klippningen och vi har tagit kort på dom innan. Snart kommer bilder efter klippningen också.
A lot is happening now. they grow very fast and are full of spirit. Though they are just four they are playing around a lot making a mess out of their room ;-) It's time for their first trim and we have taken som photos of them before. Photos will come up after the trimm as well.
| | |
| --- | --- |
| | |
​
---
10 January
4 veckor/weeks
Dom har nu fått hundmat för första gången och det smakade kanon

They have now got dog food for the first time and it was great they thought.

​

Hej brudar..vad sägs? Är jag en snygging?

Hi girls..what do you think? Am I handsome?

​

Tik nr 2 ser minst ut med sin röda sträva päls men det är hon inte på vågen ;-)

Nr 2 looks to be the smallest with her red harch coat, but she is on on the scale;-)

​
---
6 January
Tog några relaxbilder av gänget idag. Dom är oemotstånligt söta nu!
Took some relaxing photos of them today. They are irresistebly cute now!
Tik/female Nr1

Tik/female nr 1 o 2

Hane/male Nr4 och/and tik/female Nr3

​
---
2010 Happy New Year
2 January
3 veckor idag!!
Första vällingmålet, vägning och avmaskning. Alla väger en bra bit över kilot nu och är riktiga små klumpar;-) De har flyttat ut ur valplådan och börjar röra på sig.
3 weeks today!!
They have got their first gruel meal, been weighted and dewormed. All are well over 1000 grams and are like dumplins ;-) They have also moved out from the welping box now.
| | |
| --- | --- |
| Vällingen är nam nam!! The gruel is really yummi yummi!! | Bordsskicket kunde väl vara bättre;-) |
​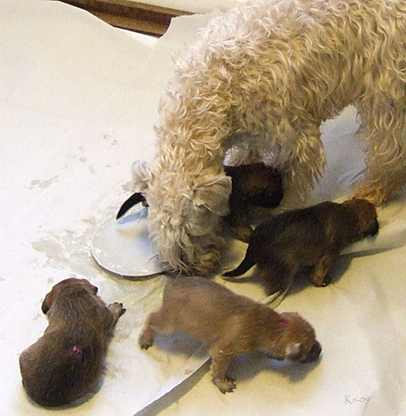 Efteråt får mamma Cara göra rent. After the meal mom Cara has to clean up.
---
2 veckor
Nu är dom 2 veckor och har börjat öppna ögon o öron. De har också börjat krypa runt lite. Största valpen väger nu över ett kilo men de andra är inte långt efter.
They are now 2 weeks and have started to open their eyes. They have also started to "walk" around a little. The biggest pup is over 1000 grams but the other are not far behind.
Females Nr 1 and 2 Nr 1 has the chinchilla coat(the darker pup), very rich and dence and Nr2 is red/harch

​

​

Female Nr3 and Male Nr4 on his back. Female Nr 3 have probably the chinchilla coat (can be the red red/harch) and the male chinchilla
---
23 December
Valparna är nu drygt en vecka. De växer och frodas. Här kommer några nya bilder.
The pups are now more than a week. They grow normally. Here are some new photos.
​

​

1 vecka/week Hane/male Nr 4

1 vecka/week fem. Nr 2
​
---
6 dagar/days
I morgon är det redan en vecka sedan dom föddes. De äter sover och växer.
Tomorrow it's already a week since they were born, amazing. They eat, sleep and grow.
​

Tik Nr 3/Female NR 3

​

Tik Nr 2/Female NR 2

Hanen Nr 4/The male NR 4

​
---
4 dagar/4 days
| | | | | |
| --- | --- | --- | --- | --- |
| | Nr1 Fem | Nr2 Fem | Nr 3 Fem | Nr 4 Male |
| birth weight | 245 grams | 260 grams | 290 grams | 295 grams |
| 2 days | 280 | 305 | 340 | 355 |
| 3 days | 335 | 350 | 390 | 415 |
| 4 days | 375 | 410 | 450 | 475 |
Som synes har dom ökat mycket bra i vikt, mer än 100 gram på fjärde dagen.
Tittar man sedan på bilderna nedan så ser man hur trinda och välmående dom är.
As you can se they have increased their weight a lot. More than 100 grams on the 4th day.
If you look at the pictures you can se how how shubby and well-fed they are.
| | |
| --- | --- |
| ​ | |
---
3 dagar/3 days
Dom är tjocka o välmående/they are chubby and well-fed
​
---
2 dagar/2 days
Dom har ökat ordentligt i vikt och är mycket starka o välmående.
They have increased their weight a lot and are very strong.
| | |
| --- | --- |
| The male pup | |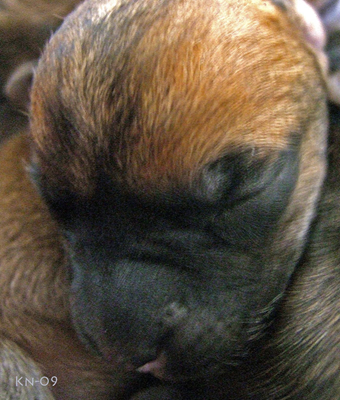 ---
Ett dygn gamla/One day old
Här kommer några bilder på dom. De äter och sover och har ökat normalt i vikt.
Here are some photos. They eat and sleap and have increased weight normally.
| | |
| --- | --- |
| Tik Nr 2 -female NR 2 | |
Fighting for food
---
| | | |
| --- | --- | --- |
| ​ | ​ | ​ |
Hanvalpen är precis nyfödd och håller på att sparka sig ur hinnorna.
The male pup is just born and is trying to get out of the membrane.
Cara strax innan valpningen börjar. Cara just before she started the welping.
---
11/11
Idag palperades Cara och hon är dräktig. Det fanns många foster därinne så det blir troligtvis en rejäl kull.
Cara was palpated today and she is pregnant. There were a lot of them in there so we expect a big litter again.
**************************
Cara är parad med Gigolo och valparna beräknas födas den 14 december.
Cara is bred to Gigolo and she is due appr. 14 December.
---