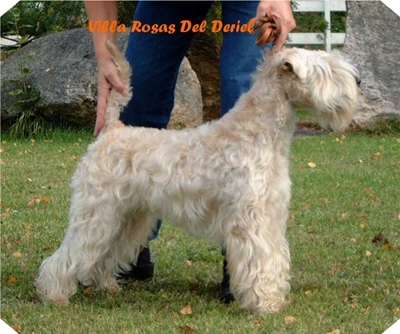 ​
Deri som vi kallar henne är en underbart vacker och trevlig tik.
Hon fick vara som allegitestare hos en familj som blev så förtjusta i henne att dom lyckades övertala oss att få köpa henne.
Vi fick en kull valpar på henne, vår K2 kull. Där den mest kända är CH Villa Rosas Kaleigh
Deri har ett par riktigt berömda bröder.
AM CH villa Rosas Dun Dryk Star O'Kaler i USA och FrCH Villa Rosas Dun Drew Na Brookdene i Frankrike.
Hon har 14 kullsyskon!!!
Deri as we call her is a lovely and beautiful bitch.
She was a test dog in an allergic family and they became so fond of her so they managed to talk us into letting them buy her.
We had one litter from her and her most famous off-spring is CH Vila rosas Kaleigh.
She also has a couple of real famous brothers.
AMCH Villa Rosas Dun Dryk Star O'Kaler in USA and FRCH Villa Rosas Dun Derew Na'Brookdene in France.
She has 14 litter-mates!!!