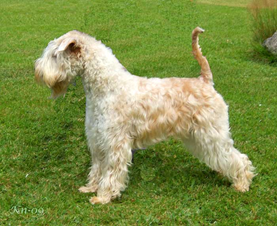 Efter många års uppehåll kom en Wheaten tik, Rosie, till oss från Irland igen. En jätte-läcker och lovande valp med ett härligt temperament.
Hon växte och utvecklades till en mycket vacker och välbyggd tik med ett härligt temperament.
Vi har ställt henne ett par gånger som unghund med HP och CK. Hon var anmäld till världsutställningen i Herning 2010, men tyvärr godkändes inte hennes blodprov (Rabies) titern var för låg, så hon fick stanna hemma.
Vad som är lite speciellt med henne är att Villa Rosas Ville Viking (vår första irlandsexport) finns bakom henne.
​
Hösten 2009 fick hon en inflammation i ett öga som tyvärr gick så illa att ögat fick opereras bort. läs mer>>
After many years a Wheaten bitch from Ireland, Rosie, came to us again. A very pretty and promising pup with a lovely temperament.
She grew and developed into a well built beauty, still with the wonderful temperament.
She has been shown a couple of times with Excellent grades. She was entered at the World Winner Show in Herning 2010, but unfortunately her rabies titre wasn't high enough so she had to stay home.
Another special thing with her is that our first export to Ireland, Villa Rosas Ville Viking is in her pedigree.
In September 2009 she got an inflammation in an eye. It showed to be so bad so the eye had to be taken away.