Villa Rosas R2-kull/litter
Pappa/Sire: Fëanáro Jarfhlaith Curran
Mamma/Dam: Villa Rosas Fagwen
Inavelskofficient/COI: 0 % 5 generations
Det är en rent irländsk kombination/It is a pure Irish combination.
Båda föräldrarna är mycket trevliga hundar med utmärkt temperament.
Both parets are very nice dogs with excellet temperament
födda/dob 1 April 2006
3hanar/males - 2 tikar/females
---
​
---
pappa/sire Fëanáro Jarfhlaith Curran

Curran är en import från Holland. Han är en mycket trevlig och godmodig hane. Sina meriter har han tagit i Holland. Han är rent Irländsk.

Curran is an Import from Holland. He is a very nice male with lovely temperament.

He is pure Irish

mamma/dam Villa Rosas Fagwen

​

Wilda är en liten söt prinsessa med underbart temperament.

Hon är inte ställd mycket men fick HP och fin placering på rasspecialen för Aya Lundsten.Hon är rent Irländsk.

Wilda is a very cute like a princess with wonderful temperament.

She is not shown very much but got HP and placemant at the breed specialty for Aya Lundsten. She is pure Irish.
| | |
| --- | --- |
| | Villa Rosas Rhodry in Germany |
---
21 May
​
Dom är nu 7 veckor och chipmärkta. De har flyttat till den stora valphagen och leker för fullt med de fyra av Junas valpar som inte är levererade ännu. Nedan kommer bilder på en och en uppställda och fina.
They are now 7 weeks and chip marked. They have moved to the big puppyrun and are now together with the 4 that haven't left yet, from Juna's litter. They like each other and play a lot. Here comes photos of them one by one, stacked.
​
MALE NR 1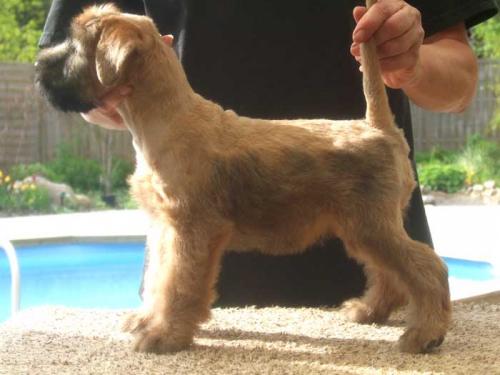 MALE NR 4
MALE NR 5
FEMALE NR 2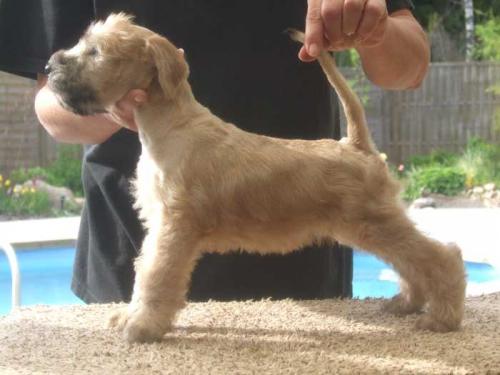 FEMALE NR 3 Villa Rosas Rhodda
​
---
17 May
​
De är nu 6½ veckor och leker och busar runt.
Nedan är lite bilder.
they are now 6½ weeks and are playing a lot.

Down are some pictures.
---
7 May
4 weeks
​
​
---
23 April
Så är dom 3 veckor och börjar upptäcka varann. De har också börjat smaka på hundmat, som dom tycker är jättegott.
They are now 3 weeks and are discovering each other. they have also tried dog food, what they like very much.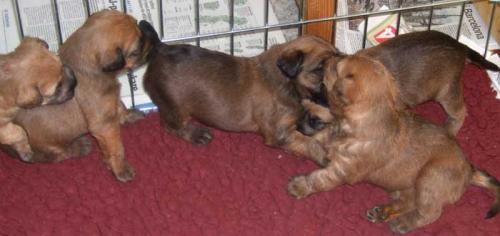 ​
---
16 April
2 veckor har gått. De har nu öppnat ögonen och provar att gå med stapplande steg men mat är deras stora intresse.
2 weeks have past. they have now opened their eyes and are trying to walk but foo is the big interest.
​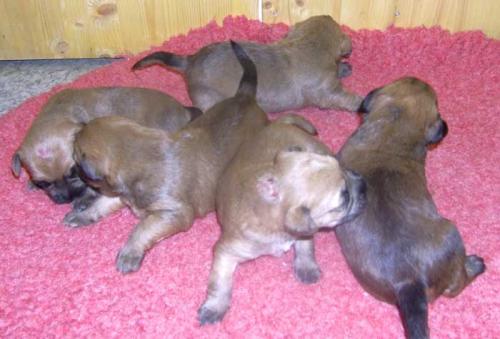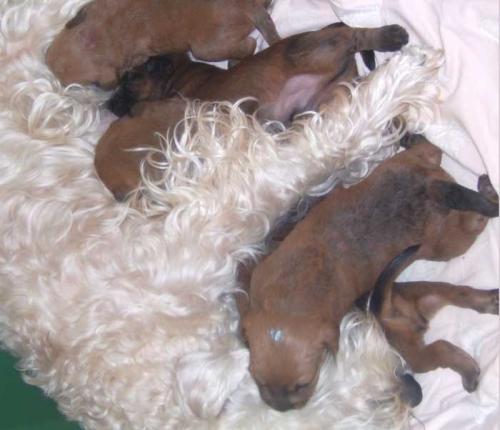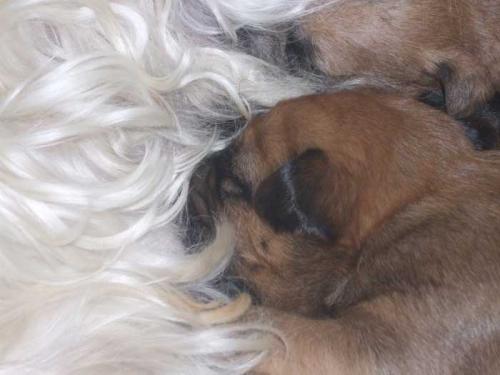 ​
---
8 April
Nu är dom 1 vecka och äter och växer.
Now they are 1 week. They eat, sleep and grow.
R2-litter 1 week
R2-litter 1 week Female "head"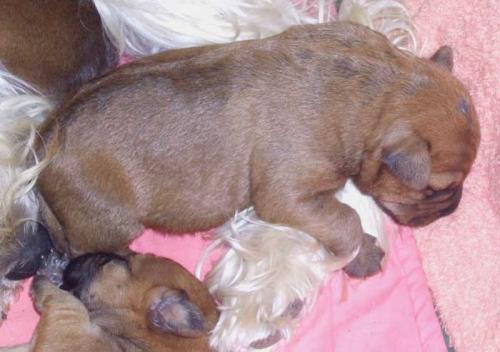 R2-litter 1 week male "head"
---
5 April
Wildas valpar är nu 4 dygn. De är väldigt starka och rörliga.
Det finns en otingad hane .
Wildas pups are now 4 days and are very strong and spirited.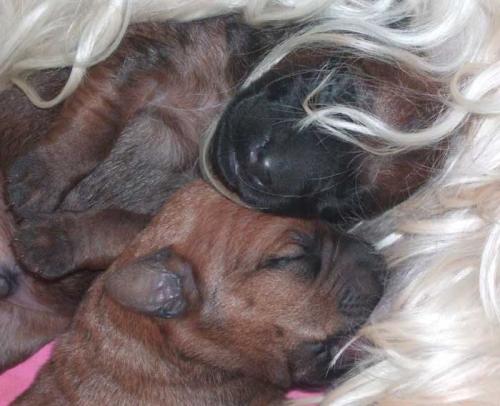 ​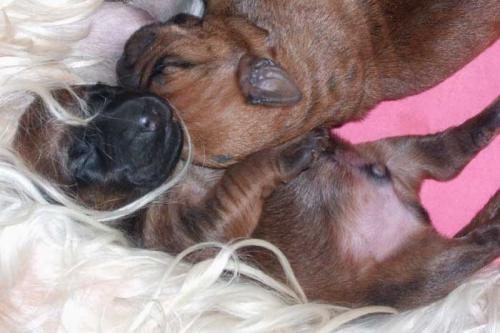 ---
1st April
Tidigt på morgonen den 1 April föddes Wildas valpar.
Det blev 5 st. 3 hanar och 2 tikar. Det är stora och välmående valpar som vägde mellan 255gr - 329gr.
Early morning the 1st of April Wilda's pups were born. There are 5. 3 males and 2 females. They are big and very nice. their weight is from 255grams - 329 grams at birth.
Wilda's pups newborn

​

Wilda and her newborn pups
29 March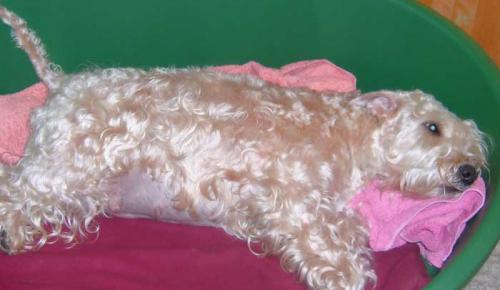 Wilda högdräktig på sin sköna Confy-Bed - Wilda high pregnant on her Confy-Bed
​
26 March
Wilda växer och är riktigt rund o go' om magen ;-)
Wilda is growing and her belly is nicley rounded ;-)
---
1 MARCH
Wilda är palperad och dräktig!!! B

eräknad födelsedag 1 april
Wilda is palpated and pregnant!!!!

Planned birtday 1 April
---

5 Pedigree of: VR Fagwen kull COI 0%
Date of Birth: End of March
Colour & Markings:
Owner:

+--Multi ch Newkilber Camelot IKCN4111
-NLCH Curran Cassidy van de Keienhorst NHSB1681549
| +-- Susan
+-- Fëanáro Bragollach Morchaint NHSB1832534
| | +-- Eogan Eglorfindel Mo Lurgan
| - Feanaro Anna Ar-Melian
| +-- Shannon Céad Mo Lurgan
+--- Fëanáro Jarfhlaith Curran S32540/2004
| | +--SUCH Holmenocks Hicklam S60424/83
| | -FINCH SUCH Geijes Kilmore SF19311/86*
| | | +--SFCH Honeyrags Fallon 5603F/84 A2
| +-- Fëanáro Eireann Kleio NHSB2031716
| | +--NLCH Curran Cassidy van de Keienhorst NHSB1681549
| - Feanaro Bragollach Laurelin
| +-- Feanaro Anna Ar-Melian
# VR Fagwen kull 0%
| +--IRLCH Briankeen Captain IKCN47319
| -IRLCH Newgrange Con Of O´Riain IKCR89336
| | +-- Holmenocks Hanroma IKCR59481
| +-- Maroc Na Sionna S52753/98H
| | | +--GBCH IRLCH Ballysax Berty IKCR62562
| | - Maroc Princess IKCS14689
| | +--IRLCH Holmenocks Habella IKCR59482
+--- Villa Rosas Fagwen S15965/2002 A
| +-- Torros Wheaten William S36866/91 H
| -Tjh.Bev Erainn Madara Ewan Elphin S56566/95H
| | +-- Erainn Madara Oisin Olinah H
+-- Villa Rosas Zowie-Zandie S18576/2000A
| +--MULTICH Danterri Wheaten Man About Town VDHKFT882
- Villa Rosas Nitty-Gritty S13476/96H
+--MULTICH (6 titles) Maroc Inishkea S65529/91H
​
​