T2-KULLEN/LITTER
Mor/Dam: Villa Rosas Madronna
Inavelskofficient/COI % 5 generations
Det är en rent irländsk kombination/It is a pure Irish combination.
Båda föräldrarna är mycket trevliga hundar med utmärkt temperament.
Both parets are very nice dogs with excellet temperament
födda/dob 11 April 2007
2hanar/males - 4 tikar/females
Pedigree of: Villa Rosas T2 litter
Date of Birth: 12/4-2007


+--IRLCH Newgrange Con Of O´Riain IKCR89336
- Maroc Na Sionna S52753/98H
| +-- Maroc Princess IKCS14689
+--USCH Villa Rosas Felyan S15963/2002
| | +--Tjh.Bev Erainn Madara Ewan Elphin S56566/95H
| - Villa Rosas Zowie-Zandie S18576/2000A
| +-- Villa Rosas Nitty-Gritty S13476/96H
+--- Kaler Gigolo Of Villa Rosa S54148/2004
| | +--FINCH SUCH Geijes Kilmore SF19311/86*
| | - Fëanáro Eireann Kilmurvey
| | | +-- Feanaro Bragollach Laurelin
| +-- Feanaro Kaler Banya RN04237701
| | +--NL BCH lubsiegerNL Winner Amsterdam Winner B Fenian O'Connor
| - Feanaro Geall Madra Maureen
| +-- Fëanáro Caran Celebrindal
Villa Rosas T2-litter
| +-- Briankeen Napper Tandy
| - Lahardanah Golden Olive IKCS69397
| | +-- Lahardanah Little Gem
| +-- Kealdale Avondale S46543/98H
| | | +-- Newgrange O'Brian of Briankeen IKCR89337
| | -IRLCH Briankeen Annie of Kealdale IKCT26850
| | +-- Briankeen Come Home IKCS52295
+--- Villa Rosas Madronna S36134/2004
| +-- Torros Wheaten William S36866/91 H
| -Tjh.Bev Erainn Madara Ewan Elphin S56566/95H
| | +-- Erainn Madara Oisin Olinah H
+-- Villa Rosas Zowie-Zandie S18576/2000A
| +--MULTICH Danterri Wheaten Man About Town VDHKFT882
- Villa Rosas Nitty-Gritty S13476/96H
+--MULTICH (6 titles) Maroc Inishkea S65529/91H
---
​

Pappa Gigolo

Mamma Lisa

​
---
Tanno 4 månader/months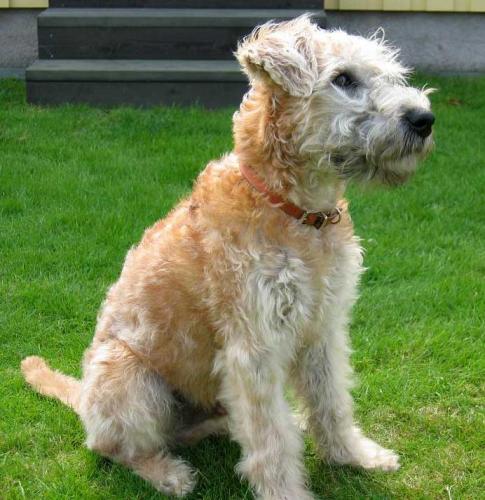 ---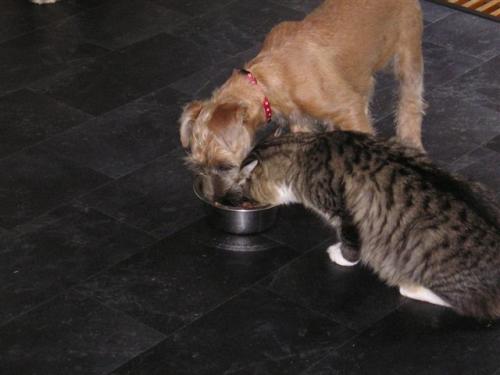 Tieryn Torin "Tory" & Clyde
Snorre oTillya
---

Tanno 10 veckor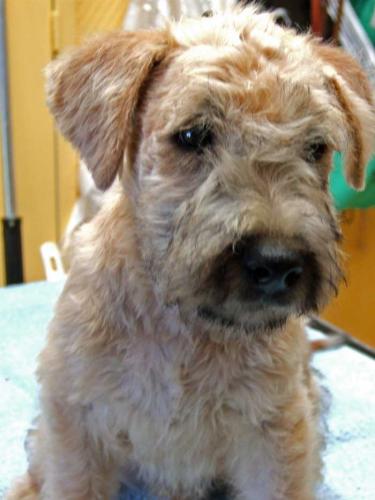 ---
21 June 2007
Tieryn "Tory" in his new home
a hard working day
my new playmate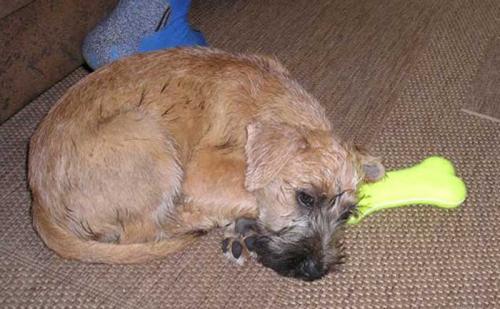 All that takes a little nap
---
7 Juni
Idag är valparna 8 veckor och veterinären har precis besiktigat och vaccinerat dom. Alla är pigga och friska. De är också registrerade och chip märkta. Deras registrade namn står under varje bild nedan.
På grund av återbud finns 1 tik och 1 hane.
Today are the pups 8 weeks. The vet. has been here and gone through them and given them the first shot. All are sound and healthy. They are also registred with the Swedish Kennel Club and micro chiped. Their names are under every picture further down.
Because of cancelations there are 1 male and 1 female not asked for.
4 June
Här kommer nu bilderna på den en och en, fint uppställda :)
Here comes pictures of them one by one stacked :-)
Villa Rosas Tieryn Torin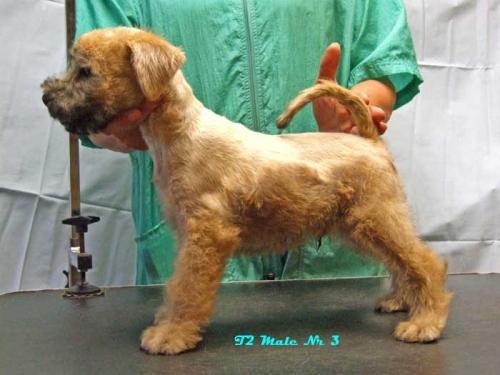 Villa Rosas Tanno Tormey
Villa Rosas Tillya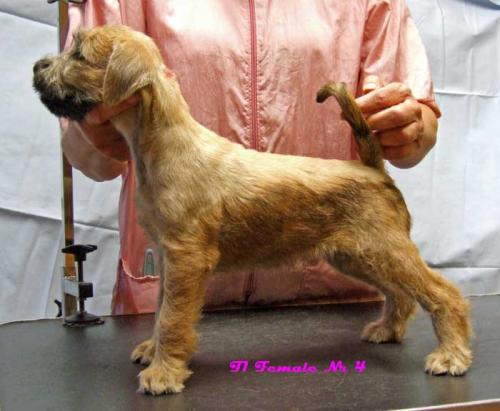 Villa Rosas Treena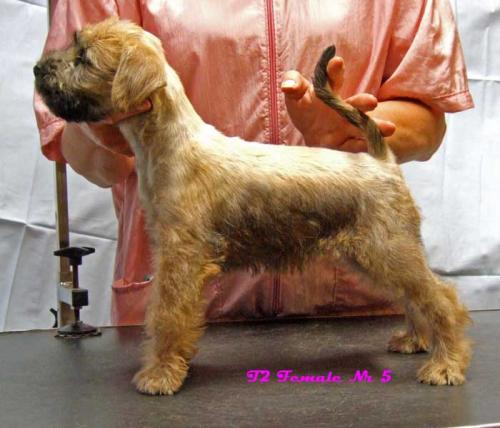 Villa Rosas Tara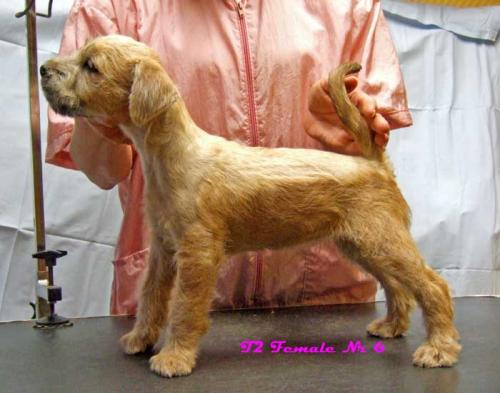 Villa Rosas Tullia
---
2 June
7 weeks
Här är en bild tagen igår på deras 7 veckors dag tillsammans med mamma Lisa.
Here is a picture taken yesterday when they were 7 weeks together with mom Lisa.
6 weeks
Här är några bilder när dom är 6 veckor och leker med bästa kompisen
Farbror Snorre :-)
Here are some pictures when they are 6 weeks and playing with their best playmate Uncle Snorre :-)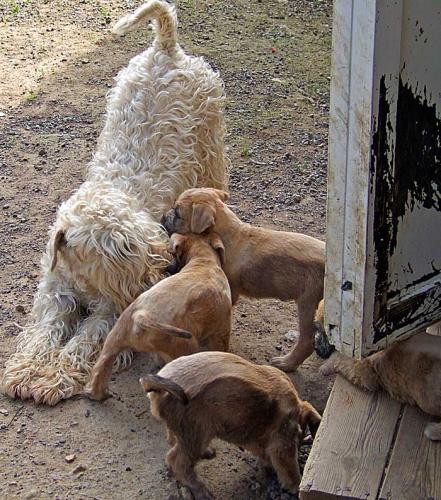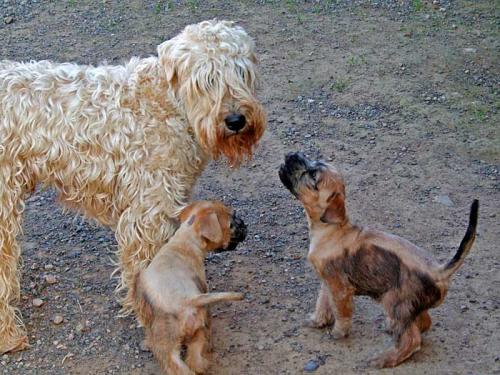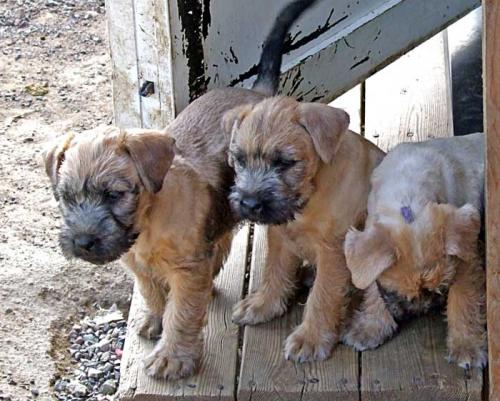 5 veckor-5 weeks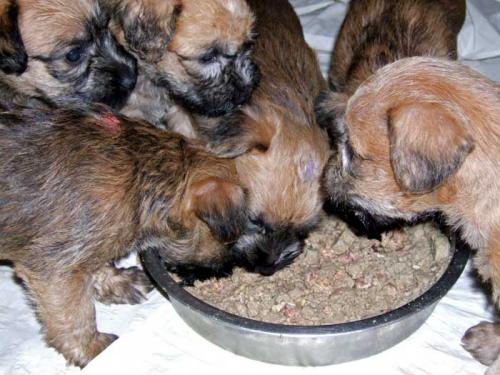 ---
4 veckor-4 weeks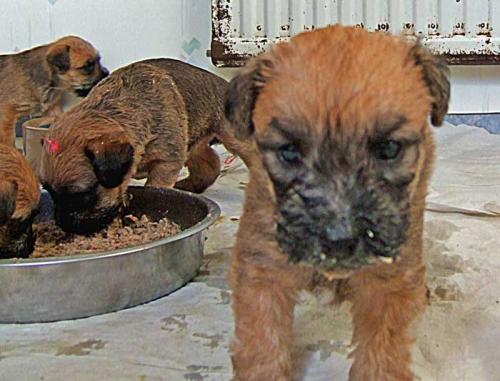 ---
3 May
Tre veckor har redan gått. Dom är nu uppe på benen och springer runt lite grand och upptäcker världen.
Three weeks have already past. They are now up running around, discovering the world.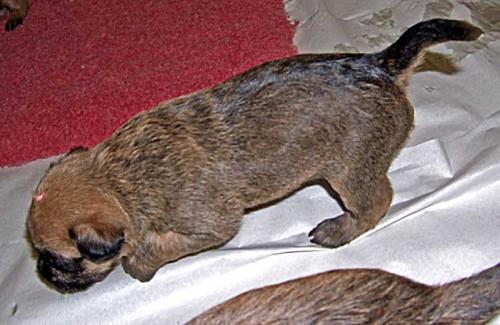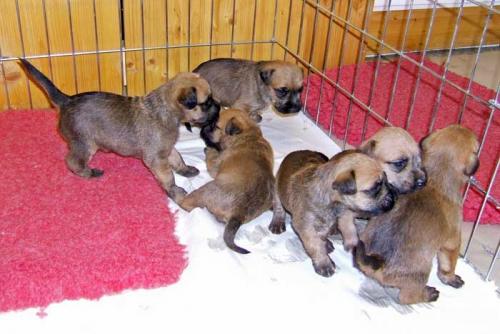 ---
28 April
Nu är dom 2 veckor och ögonen är öppna. De är också uppe och går runt lite. Dom är mycket starka och välväxta.
They are now 2 weeks and the eyes are open. They have also started to walk around a little. They are very strong pups.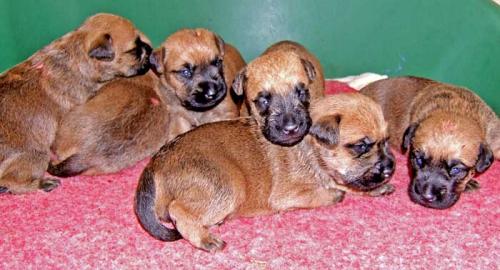 ---
19 april
Lisas valpar är en vecka idag. De växer och ökar rejält i vikt. En hane och en tik är inte tingade.
Lisa's pups are one week today. They have grown a lot and almost doubled their birth weight. One male and one female are not asked for.
---
13 april
Ett dygn och dom har ökat ordentligt i vikt. Mamma Lisa har hur mycket mat som helst.
One day and they have increased a lot of weight. Mom Lisa has a lot of milk.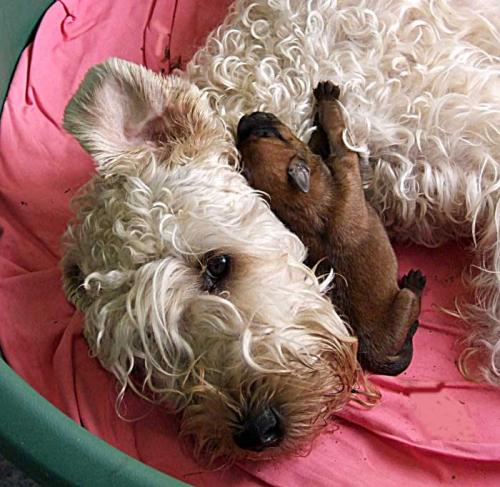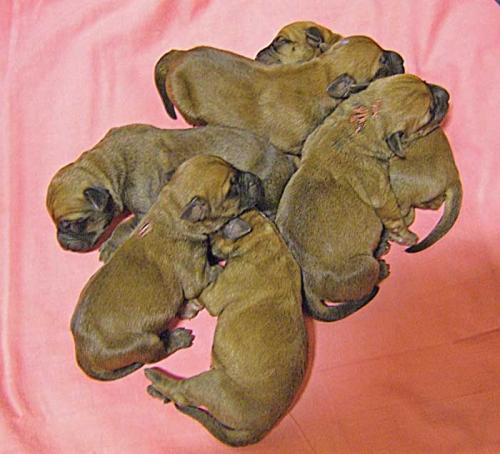 ---
12 April
Nu är dom födda!!! Det blev 2 hanar och 4 tikar. Alla pigga och friska.
Första valpen kom kl 14.00 och sista kl 17.00. Födelsevikten ligger på mellan 260-350 gram.
Now they are born!!! 2 boys and 4 girls. All nice and heathy.
First pup came 2 Pm and the last 5 Pm. Birth weight between 260-350 gram.
Valpar väntas den 10 April/pups are expected 10 April 2007
LEVERANSKLARA början av juni/Ready for new homes in the beginning of June
Lisa (Villa Rosas Madronna) är parad med Gigolo (Kaler Gigolo of Villa Rosa).
Det blir en rent Irländsk kull. Valpar kan tingas
Detta är en mycket spännande kombination som vi se mycket fram emot.
Båda föräldrarna bor i familjer.
Gigolo har samma härliga mentalitet som "farbror" Snorre och med sitt härliga sätt har han "botat" minst en person med mycket stor hundrädsla. Dessutom är de människor han charmat oräkneliga.
Lisa är en underbar hund tycker matte och husse som tidigare haft en Wheaten som de fick ta bort pga dålig mentalitet. Hon är så trygg och snäll med en otrolig självkänsla.
Lisa (Villa Rosas Madronna) is bred to Gigolo (Kaler Gigolo of Villa Rosa)
This will be a pure Irish breeding.
This is a very exciting combination we are looking forward to. Both parents live in families.
Gigolo has same nice temperament and "uncle" Snorre and has actually cured at least one prson with with big fear of dogs and h charmes everyone.
Lisa is a wonderful dog says her "mom and dad". They had a Wheaten before they had to put down because of bad temperament. She is so secure and kind with selfconfidence and everyone just love her.