Valptest
Vi brukar försöka göra ett litet enkelt valptest på kullarna när dom är 7 veckor för att se lite hur de olika individerna är. Vi tar dom en och en till en plats där dom aldrig varit tidigare. Där får dom träffa personer som dom aldrig träffat förut. Där finns också lite olika leksaker som dom inte lekt med tidigare. Man tittar lite på hur dom reagerar på personerna och leksakerna. Där kan man se deras livlighet om dom är trygga eller osäkra, eventuell lek- och kamplust, nyfikenhet och eventuell rädsla.
Tik Nr1 Zarka säger hej till en okänd person/Female Nr1 says hello to an unknown person.
​
Tik Nr2 Zacheka hälsar på okänd person7Femal Nr2 says hello to unknown person.
Tiknr2 Zacheka har håller strumpan/Female Nr2 has the rug
​
Tik nr3 Zygi går in i tunneln/Female Nr3 walks into the tunnel
Tik nr 3 Zygi leker med en okän person/Femle Nr3 plays with an unknown person
​
Tik nr 4 Zagara leker med den mystiska gubben med hatt/Female Nr4 is playing with the strange man in a hat.
Tik nr4 leker med pipdjuret/Female Nr4 is playing with the squeeker
Hane nr5 Zaryn möter mannen med hatten/Male Nr5 says hello to the man in the hat
Hane nr5 i tunneln/male Nr5 in the tunnel
Hane nr6 Zandro har erövrat den stoora trasan/Male Nr6 has captured the big rug
hane nr7 hälsar på okänd/Male Nr7 says hello to unknown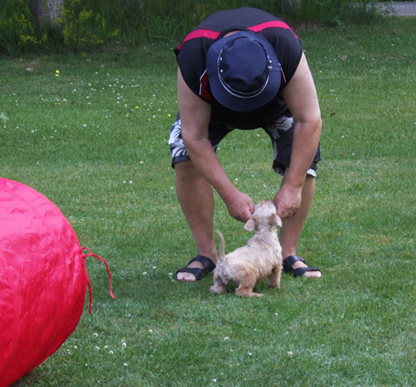 Hane nr7 Zinpson säger hej till mannen i hatten/Male Nr7 says hello to the man in the hat.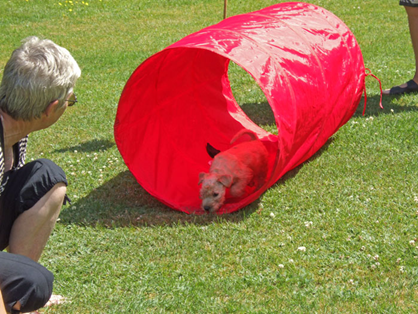 Hane nr7 i tunneln/Male Nr7 Zimpson in the tunnel
Puppytest
We use to have a small puppytest for our puppies when they are about 7 weeks to help us se how the individuals are. We bring them one by one to a place where they never have been before. There they will meet people they never have seen before. There are also some toys they never have seen. We use to look how they react on the persons and toys and one can se how their temperament is, if they are secure or not, how plyfull they are, if they like to play with toys and fight with a rug. If they are curious or perhaps afraid.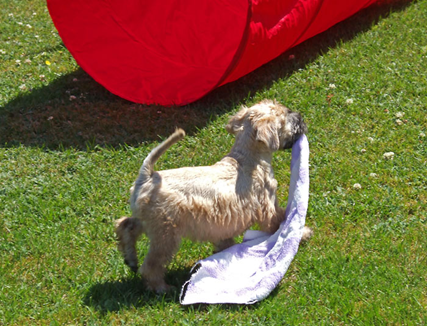 Tik Nr1 Zarka går iväg med ett "byte"/Female Nr1 walks away with a"quarry"
Tik Nr1 Zarka leker med strumpan/Female Nr1 is playing with a rug
tiknr2 Zacheka säger hej till rosa grisen/Female nr2 says hello to a strange pink pig.
Tik nr2 Zacheka går igenom tunneln/Female Nr2 passes through the tunnel
Tik nr3 Zygi följer med en främmad person/Female Nr3 follows an unknown person
Tik nr4 Zagara spårar maten lätt/Female nr4 tracks the food easily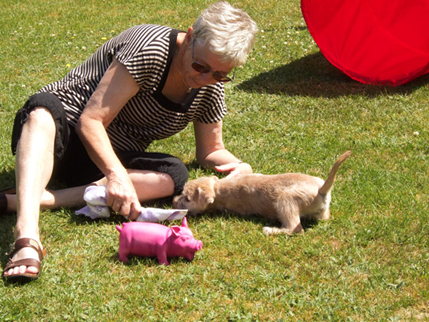 Hane nr5 Zaryn bekantar sig med de främmande personen/Male Nr5 says hello to the unknown person
Hane nr5 Zaryn leker med pipdjure/Male nr5 plays with the squeeker
Hane nr6 sa hej till alla/Male Nr6 Zandro said hello to everybody
Hane Nr6 Zandro apporterar pipdjuret 3 gånger/Male Nr6 fetches the squeeker 3 times
Hane nr7 hämtar trasan/Male Nr7 Zimpson fetches the rug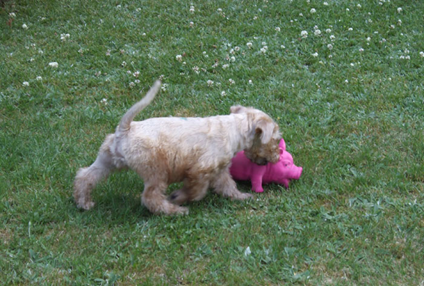 Hane nr7 Zimpson har fångat grisen/Male Nr7 has captured the pink pig..
​
Alla valparna var framåt lekfulla och nyfikna med lite olika intensitet/ All puppies were playfull and forth going with some differnt intencity
Ett varmt tack till Per och Eva för att ni ställer er hundkunskap och erfarenhet till vår förfogade!
We will thank Per and Eva for letting us use their enormous dog knowledge and experience!
Kickie & Chris