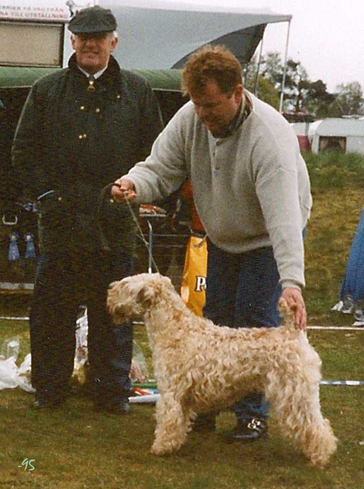 Niska BOB at the Breed Specialty 1995 in Örby
1991 anlände vår första Irländska import, Maroc Iniskea. Hon hade ett underbart temperament och var en typisk wheaten. Hon var 12 veckor när hon anlände och hon hade den korta, röda sträva valppälsen som vi fått lära oss alltid utvecklas till en vacker korrekt vuxen päls.
Maureen Holmes hjälpe oss att plocka henne i en kull uppfödd av Mary O'Carroll. Hon valpklippte henne och limmade öronen på henne innan hon skickades till Sverige.
Vi kallade henne för Niska och hon växte upp till en skönhet och vann lätt 6 nationella championtitlar. Jag minns inte längre hur många BIR hon vann, men det var åtskilliga. Efter henne har vi importerat många hundar från Irland, men ingen kan mäta sig med henne i skönhet och temperament.
Niska blev en storvinnare i ringarna i Europa på 90-talet och alla som såg henne förundrades över hennes charm och utstrålning.
Hon hade den som jag kallar röd/sträva pälsen med svarta toppar som valp och som vuxen hade hon en otroligt vacker och riklig päls som var mycket glansig och silkig. Hon var välbyggd och välvinklad runt om.
Niska blev vår stamtik när vi startade om med Irländska linjer. Hon är den enda tik vi tagit 5 kullar på och hon finns bakom nastan alla våra hundar än idag. Ibland slår hennes skönhet och temperament igenom och Villa Rosas Rhodda tex. är mycket lik sin anmoder och hade kunnat bli en stor vinnare om hon ställts ut.
Hon är mamma till våra I, K, N, Q och T-kullar.
Fäderna till kullarna ser du till höger.
In 1991 our first Irish import arrived, Maroc Inishkea. She had a wonderful temperament and was just a typical Wheaten. She was 12 weeks when she came and she had the short, red harsh puppy coat we have learned will grow in to the beautiful correct adult coat.
Maureen Holmes helped us to pick her from the litter, bred by Mary O'Carroll. She also trimmed the black tips off and glued the ears before she left Ireland for Sweden.
We called her Niska, and she grew in to a beauty and won easily six national Champion titles. I don't remember how many Best of Breed she won, but it was a lot. Since then we have imported many dogs from Ireland, but no one could ever compete with Niska in beauty and temperament.
Niska became a big winner in the Europeian showrings in the 90-ies and all who met her admired her charm and beauty.
She had the, what I call, red/harsh coat with black tips as a pup and as adult her coat was incredible beautiful, rich, shining and silky. She was well built with excellent angulations around, with wondeful movement. She had sciccors bit and full 42 teeth.
Niska became our foundation bitch of our pure Irish lines. She is the only bitch we have had 5 litters from. She loved pups and raised all pups close to her. She is still behind almost all our dogs and now and then her beauty and temperament shows up. For example Villa Rosas Rhodda could have been a big winner if shown.
She is dam of our
I litter, sire Ardymon Gareth (Irish imp.),
K- litter, sire MultiCH Villa Rosas Big-Wig,
N-litter, sire MultiCH Danterri Wheaten Man About Town,
Q-litter sire CH Wheaten Rebels Lucky Luciano
and T- litter sire MultiCH Villa Rosas Big-Wig